How To Make Money Selling Drugs
(2013)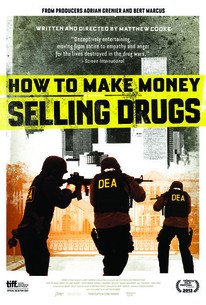 How To Make Money Selling Drugs Videos
How To Make Money Selling Drugs Photos
Movie Info
A shockingly candid examination of how a street dealer can rise to cartel lord with relative ease, How to Make Money Selling Drugs is an insider's guide to the violent but extremely lucrative drug industry. Told from the perspective of former drug dealers, and featuring interviews with rights advocates Russell Simmons, Susan Sarandon, and David Simon (creator of "The Wire"), the film gives you the lessons you need to start your own drug empire while exposing the corruption behind the "war on drugs." (c) Tribeca Films
Critic Reviews for How To Make Money Selling Drugs
Audience Reviews for How To Make Money Selling Drugs
This should be required viewing for everyone in this country even though it is aimed at a younger audience. The synopsis is off and although it does start off with sometimes corny generalizations on the ease of such ventures, halfway through gets very real about how the drug war is effecting all of us.
Troy Kleasner
Pretty interesting way to break down how drug peddling works and how/why the war on drugs is a failure. Some may look at the video game comparison to be immature, but I think it adds to the subject matter. If I have 1 criticism its that it doesn't always sync up the stories of the people they follow. I got lost a few times with people's timelines, but overall they cover a lot of ground and it is easy to lose the trees from the forest.
Robert I (Master of All Movies)
First-time feature documentarian director Matthew Cooke's 'How to Make Money Selling Drugs' is about exactly that. There is no clever misdirection, grand illusion, trick or outright lie ... it is about making LOTS of money while selling drugs. In what has been described as a "shockingly candid examination", Cooke interviews a cross-section of "insiders" - dealers, big pharma lobbyists (ka-ching!), prison employees etc. -- who know this world of secret deals and cutting and mixing as few others who have survived to tell their tales. While the documentary deals with unsavory subject matter, Cooke keeps the footage rather PG-13 and his style and format becomes most engrossing. He starts the viewer out as a little Joe Schmoe selling drugs to his high school class and teammates before escalating his "business" over the course of a relatively short amount of time into a multi-million dollar, international conglomeration complete with mules (some very unfortunate souls) and chefs and high profile clientele. While Moore shows the audience how frighteningly easy a global market can be obtained (which brings in the BIG bucks), he never once glamorizes the trade without depicting the harsh realities (cops, fights, bad deals, death) that are never more than a few steps away at any given time of day. In order to not boggle down the mind of most viewers and to keep the film fresh and interesting, Cooke breaks his film into segments one might come across in an "Idiot's Guidebook". It is made clear that just about anybody can sell some drugs but it is NOT a wise profession. It is an interesting watch ... which might sadly influence some pathetic copycats who are both dangerous and dumb.
Thomas Williams
How To Make Money Selling Drugs Quotes
There are no approved quotes yet for this movie.
Discussion Forum
Discuss How To Make Money Selling Drugs on our Movie forum!