How Weed Won the West
(2010)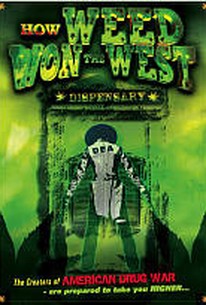 AUDIENCE SCORE
Critic Consensus: No consensus yet.
How Weed Won the West Photos
Movie Info
Director Kevin Booth (American Drug War: The Last White Hope) explores California's booming medical marijuana industry while highlighting the hypocrisy of the War on Drugs. In Los Angeles alone, there are more than 700 legal dispensaries where licensed users can procure their drug of choice. Yet in August of 2009, the Organica dispensary in Southland was subject to a massive raid by state and federal agents. So why does the President elected on his promise to enact change in contemporary America still seem stuck in the old ways of thinking when it comes to the subject of marijuana? Texas-based conspiracy theorist Alex Jones and Drug Policy Alliance head Ethan Nadelmann weigh in with their own opinions on the matter in a documentary designed to both educate and entertain.
Rating:
NR
Genre:
,
Directed By:
In Theaters:
On DVD:
Runtime:
Studio:
Critic Reviews for How Weed Won the West
There are no critic reviews yet for How Weed Won the West. Keep checking Rotten Tomatoes for updates!
Audience Reviews for How Weed Won the West
How Weed Won the West is a documentary about medical marijuana, most notably, medical marijuana in California. How we tell if a documentary is good is if we learn stuff, we are entertained, and whatever the filmmaker is trying to get across, gets across. Well all those things are true with How Weed Won. Kevin Booth is a good little documentary filmmaker. Look also at his American Drug War.  In How Weed Won, we go into dispensaries, into grow houses, and into the lives of users. We learn some of the laws behind medical marijuana, how to get it, and why it's necessary. We see victims of terminal diseases who use marijuana to help them sustain life, and it works. We also see politicians(with clear agendas) say that medical marijuana is a fraud. That it is lying. That it is corrupting are youth. If you don't think marijuana is a medicine, go fucking try it and they say that. I smoke weed daily, mostly at night to relieve shoulder pain from a surgery and help me sleep. I'm not a terminal cancer patient or anything like that, but weed has its benefits for just about anyone. Have a headache? Smoke weed, it will help. Depressed? Smoke weed, it will help. Have social disorders that don't allow you to be around big groups of people? Smoke weed, it will help. The social aspect is also huge in what makes me love marijuana. I'm not the best with talking to people I don't know or being around large groups of people, but damn I smoke a joint and I don't really care anymore. And it's not that type of I don't care that you get from alcohol where you're just stupid. You can be high and function. I have no problem being high around parents, grandparents, teachers, anyone because they won't know. I like what Alex Jones says in this documentary near the end. He says even if you aren't a weed smoker, like himself, you should still push for the legalization of it. Because guess what, it's going to drive crime down and give a natural medicine to people who need it. That's what most people don't understand and won't let you tell them. Weed is medicine. Its effects are numerous and its harms are zero. Look at the medicine you have to take and all the side effects they cause. Could cause: ear bleeding, liver failure, panic attacks, thoughts of suicide, lack of sleep, allergic reaction, loss of taste, loss of smell, lose of hearing, loss of sight, heart problems, loss of breath, etc. Yet all those DRUGS are legal. So why isn't marijuana? You know the side effects for marijuana? It could cause you to eat. That's about it.  This debate isn't really even a debate yet it continues to be. How Weed Won demonstrates this perfectly. Plus you got to love a documentary that has its filmmaker smoking weed on camera and also going to get a medical card. If you are in anyway unsure on this topic, watch this movie. If you don't quote understand marijuana's benefits, watch this movie. If you think marijuana is bad, watch this movie. If you think marijuana is good, smoke a joint and watch this movie. Just watch the movie. 
Melvin White
Super Reviewer
How Weed Won the West Quotes
There are no approved quotes yet for this movie.