Howling
(2012)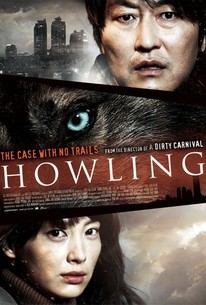 AUDIENCE SCORE
Critic Consensus: No consensus yet.
Movie Info
Detective Sang-gil and beat cop Eun-yeong are in charge of a case that seems to involve a simple act of self-immolation. Sang-gil initially thinks that it was an accident, but dog bite marks discovered on the body lead him to believe that someone had terrorized and murdered the victim. With Sang-gil working secretly and hoping for a promotion, he and Eun-yeong investigate the source of the drugs found in the body and discover the victim had been pimping out young girls. At the same time, another murder involving a wolf-dog crossbreed occurs, revealing teeth marks similar to the one's on previous victim's body. The two cases are labeled serial killings... -- (C) C&J Entertainment
Rating:
PG-13
Genre:
Directed By:
Written By:
In Theaters:
Runtime:
Studio:
Critic Reviews for Howling
There are no critic reviews yet for Howling. Keep checking Rotten Tomatoes for updates!
Audience Reviews for Howling
½
Did a wolf escape from the zoo? Gangsters are showing up murdered all over the city and the victims appear to be eaten by a wolf, werewolf, or some kind of other animal. An established detective and a new partner have been assigned to the case to try and find some clues. The clues are hard to come by, but if they find out who could have it out for the gangsters, they may find the men and creature(s) responsible. "Everything was burnt to a crisp." "I'm all burnt inside too." Ha Yoo, director of Marriage is a Crazy Thing, A Dirty Carnival, A Frozen Flower, and On A Windy Day We must go to Apgujeong, delivers Howling. The storyline for this picture is actually interesting and worth watching unfold. The action scenes are solid and so is the acting. The cast includes Kang Ho Song, Na-yeong Lee, Jang In-ho, and Jeong Jin. "We need a helper. A woman might not work." I grabbed this off Netflix because I love Kang Ho Song (Thirst, Sympathy for Mr. Vengeance, and Sympathy for Mrs. Vengeance). This was above average and an entertaining picture for sure. I won't say this is as good as Thirst, but it is unique. I would recommend catching this once but I wouldn't add it to my foreign film collection. "I'll gladly pay for my sins." Grade: B-
Kevin Robbins
½
Okay, so my expectations for this film have likely colored my enjoyment of it, but bear with me: I honestly expected this to be some sort of supernatural werewolf thing based on the vague Netfux description, and when it was revealed that it wasn't, I pretty much tuned out. It's watchable, but just wasn't what I was looking for at all. Rental?
Bill Bryant
Ha Yoo's Howling falls right into place as another solid Korean crime thriller.
The title sounds like something out of a science fiction or horror piece, but don't let that fool you. The story plays out like a crime thriller should. The initial setup is a bit lengthy; however, as time passes and the clues begin to reveal themselves, 110 minutes of screen time doesn't seem that bad. Sure the pacing isn't exactly on speed, but the wolf-dog element adds an interesting flavor to the plot.
The violence is lightly gruesome. Lightly in the way that the kills are intense, but the blood content is held in check.
It is hard to fault Kang-ho Song at this point. The detective role is no stranger to him and he pulls it off without fail. The lovely Na-young Lee is a good compliment to Song's character.
Is Howling a recommendable film out of Korea? Yes.
Discussion Forum
Discuss Howling on our Movie forum!