The Howling: New Moon Rising
(1995)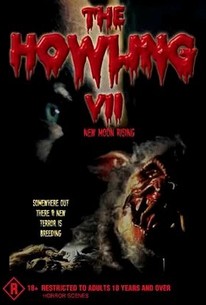 AUDIENCE SCORE
Critic Consensus: No consensus yet.
Movie Info
In a small desert town, an Australian drifter is suspected of being a werewolf. John Ramsden, Ernest Kester, Clive Turner (who also directed), John Huff, Elizabeth She, Jacqueline Armitage, Harriet Allen, Cheryl Allen. A.k.a. "The Howling VII: Mystery Woman."
Critic Reviews for The Howling: New Moon Rising
Audience Reviews for The Howling: New Moon Rising
Live Turner's Howling VII is yet another misguided attempt at creating a pointless sequel. You can guess that by a seventh entry in a franchise, all the great ideas are strained, and what remains are bad, unimpressive plot ideas with awful directing, story and acting. This is very much the case with this seventh entry. This film is a train wreck from start to finish, and is very poorly conceived. I don't know why studios green light this crap, because it's so bad in the first place. How could this be an effective, entertaining sequel? This film was awful. The directing sucks, the actors were bad, and the plot wasn't good whatsoever. This film was a waste of time, and to fans of the original Joe Dante classic, this film will highly disappoint you. Howling VII scraps the bottom of the barrel yet again and is yet another sequel that fails to deliver the thrills. The Howling series is plagued with mostly bad sequels to a great Werewolf film, and it's a great shame, because there could have been good ideas for sequels. Unfortunately when you have mediocre writers, they turn out a really bad product. This is a poorly made horror film with no terrifying bits to elevate the film. Really, what this film is good for is to watch for how bad it really is. This is yet another awful film in The Howling series. If you enjoy the first film, avoid this one, as it has nothing good going for it. The film is awful, and was only made to cash in on the success of the first film.
The Howling: New Moon Rising Quotes
There are no approved quotes yet for this movie.