Hsimeng jensheng (The Puppetmaster)
(1993)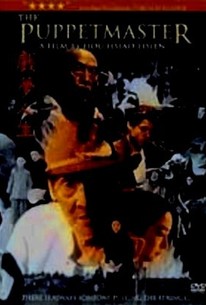 Hsimeng jensheng (The Puppetmaster) Photos
Movie Info
This Hou Hsiao Hsien masterpiece is a portrait of the childhood and adolescence of octogenarian Taiwanese puppet master and actor Li T'ien-lu, who narrates the film both off-screen and on-screen. In this second installment of a trilogy on Taiwanese life in the 20th century (City of Sadness is the first and Good Men, Good Women is the third), Li's development as an artist and husband plays out between 1908 and 1945 under the heavy hand of Japanese rule, paralleling the development of Taiwan's own political consciousness. The movie deftly shifts from a dramatization of Li's life, to Li speaking directly to the camera about his experiences, to his puppet performances in a semi-documentary style that recalls The Thin Blue Line (1988). Here, as in most of his films, Hou uses long takes and off-screen space to create a complex, richly layered meditation on personal, artistic, and national aspirations. ~ Jonathan Crow, Rovi
Rating:
NR
Genre:
, , ,
Directed By:
Written By:
In Theaters:
On DVD:
Runtime:
Critic Reviews for Hsimeng jensheng (The Puppetmaster)
All Critics (7) | Fresh (7) | Rotten (0) | DVD (1)

New York Times
Top Critic

Hou Hsiao-hsien remains a master at conveying movement, progression, and a sense of the inexorable rotations of the wheel of time.

Audience Reviews for Hsimeng jensheng (The Puppetmaster)
½
This was such a uniquely satisfying film. It starts off a bit slow, but as the story progresses and Li Tienlu narrates his own life story the film becomes more and more endearing as a portrait of a man set to use his passion in ways he never expected (or even wanted). The film is a mixture of dramatized narrative with actual on screen storytelling and narration from Li himself. It's a great film for those looking for something different.
Michael Stuhlman
(****): [img]http://images.rottentomatoes.com/images/user/icons/icon14.gif[/img] Expertly crafted in every way.
TTT C
Viewed November 24, 2005 on DVD. I'm not sure what it is about Hou Hsiao-Hsien movies that I love so much. They're very complicated, very inaccessible, very slow, muted, and toned-down, and very long, but I just get sucked in into some sort of trance, and end up loving the films. Taiwanese filmmakers are masters of the long shot, often emphasizing the composition of a scene, and when I watch these films I consciously think how these scenes are very intentionally composed. There are any number of angles from which a scene could be shot, but the director not only chose this one, but deemed it worthy to roll a camera on it for several minutes in one seamless long shot. Hou Hsiao-Hsien's filmmaking is very naturalistic. The look of his movies are that they are shot "as they are", as the subject happened, no tricks or dramatics in the camera work, no expositional dialogue, almost zero close-ups. His films look like there was no screenplay, no direction, no costumes, no camera, no crew, and when I remind myself that there were all of these things, and that all of this is an artistic vision, I'm just amazed. It's bold in its mutedness and sincerity. He doesn't give you anything. These are "thinker" films. When you see an interaction between two people, you have to read into the dynamic and get a sense of what is being said about the characters, often by what was[b] not[/b] done or said. Too much effort for many filmgoers, I shouldn't wonder. What was [i]The Puppetmaster[/i] about? Damned if I know...a puppetmaster in the Japanese colonial period in Taiwan (1895-1945)? There's a lot to say about what Hou Hsiao-Hsien is portraying historically, but I'm not qualified to say it. Like most of his films, I do want to see it again. I saw and loved his [i]Millenium Mambo[/i] three times, both the second and third time having forgotten that I had already seen it. And I'm still calling this a brilliant film.
Koji Li
Discussion Forum
Discuss Hsimeng jensheng (The Puppetmaster) on our Movie forum!