Huang tu di (Yellow Earth)
(1984)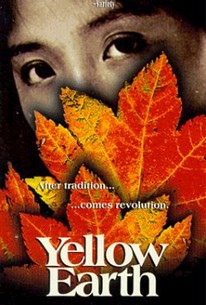 Huang tu di (Yellow Earth) Photos
Movie Info
Young Red Army soldier Gu Qing is sent to the northern Shaanxi region of China to learn local folk songs in 1939. He stays with a poor grumpy widower, along with his son Hanhan and his precocious teenage daughter Cuiqiao. The three are initially suspicious of the stranger, but they warm to him after hearing of the new ideas of the Communist party. Soon he teaches the silent Hanhan a song with the line, "Only the Communists can save the poor," but it is with Cuiqiao -- who will soon be sold into marriage to an older man who she has been betrothed to since infancy -- that Gu's talk of a new society has the most effect. She is no longer willing to accept her fate; she wants to join the Communist party where women are given the same treatment as men. When Gu leaves the village, he tells her that he will return to take her to Yan'an, the Communist party stronghold. Unfortunately the officer arrives too late and the results are tragic. ~ Jonathan Crow, Rovi
Critic Reviews for Huang tu di (Yellow Earth)
Audience Reviews for Huang tu di (Yellow Earth)
Not as grandiose as Chen's later film Farewell, My Concubine... this is a small-scale story about the problems of the poor, rural Chinese and Communism's failure to solve them. Again, it reminded me of Zhang Yimou, especially his earlier films, and no wonder: Zhang was the cinematographer on this. I thought it was generally very well done, and wisely keeps the running time short for such a simple story. The use of songs was quite nice, although I thought it was unnecessary to augment them with instruments (including some that occasionally sounded like synthesizers, but I could be mistaken). Good performances, too. Not a "rock your world" type of movie, but a solid and subtle one.
Martin Teller
½
I can appreciate the story and whats being told but the actual s film itself isnt to appealing. I couldnt get into this film or make any connections. Just not interesting.
Dan Marino
A story about a communist soldier who visits a rural village of farmers in order to collect their songs to be re-written as motivational songs for the communist army during WWII. The film shows the harsh way of life of these farmers and their backward traditions of gender inequality. What initially may appear as a praise of the social and economic improvements that the communists brings is subverted by its allegorical ending. At the center of the film is a very low key love story similar to Zhang Yimou's The Road Home. I liked how the characters and their feelings are carried by the songs they sing rather than dialogue. I might have liked this even more if the stark mountainous landscapes weren't marred by the atrocious print I watched.
X. T. C.
Huang tu di (Yellow Earth) Quotes
There are no approved quotes yet for this movie.
Discussion Forum
Discuss Huang tu di (Yellow Earth) on our Movie forum!