Ningen no jôken (Human Condition II - The Road to Eternity)
(1961)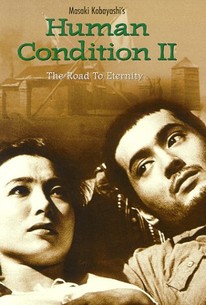 AUDIENCE SCORE
Critic Consensus: No consensus yet.
Movie Info
The second of Japanese director Masaki Kobayashi's Human Condition trilogy was titled The Road to Eternity (originally Zoku Ningen No Joken). Picking up where 1958's No Greater Love left off, this 1961 film finds the gentle, pacifistic Kaji (Tatsuya Nakadai) being sent to basic training camp in Manchuria in the waning days of World War II. Kaji struggles bravely to stick to his non-aggressive principals, only to be beaten and tortured for his troubles. Pushed to the edge, Kaji ends up killing a fellow soldier in the heat of battle. The film concludes with the surrender of Japan, but the story is open-ended enough to allow for a sequel: 1970's A Soldier's Prayer. ~ Hal Erickson, Rovi
Critic Reviews for Ningen no jôken (Human Condition II - The Road to Eternity)
There are no critic reviews yet for Ningen no jôken (Human Condition II - The Road to Eternity). Keep checking Rotten Tomatoes for updates!
Audience Reviews for Ningen no jôken (Human Condition II - The Road to Eternity)
Second Part in the incredible 9 hour film The Human Condition picks up where the first film left off, and features some exquisite filmmaking at its best that is only matched by stunning, unforgettable performances. The film continues telling the story of Kaji, who lost his rights for protecting for Chinese prisoners. Brilliantly filmed and steadily paced to let the story unfold to make it an unforgettable filmgoing experience. This second part tells a very good story as director Masaki Kobayashi continues his trilogy by telling a simple, yet enthralling story that manages to work to great effect because it's a story that is never dull and in fact, this second half more engaging than the first part due to the fact that there is a lot more happening this time around. I'm not saying that the first part of this epic film was bad or anything, like I stated in my review for that film, it was a fine first half to set things in motion, and it worked beautifully due to superb filmmaking and acting. This is a stunning piece of film, a flawless second half, and it does it a marvelous job at grabbing your attention due to the fact that it's a film that boasts a powerful, yet evocative story. Films like this are rare nowadays, and that's a shame because The Human Condition II: The Road Eternity is a masterful picture that can resonate with audiences even today, and if movies like this would be released today, it would bring back a certain lost element to the way that films are made. This second part is just as strong if not better than the first part and it continues on building the great story established in the first as well as continuing the enthralling film saga in this nine hour epic picture.
see review for "the human condition 1".
Kuji is confronted with the difference in rank, there is no room for the weak in the army. The veterans who used to be recruits themselves treat the new recruits badly. Even when Kaji moves up in the ranks, he refuses to adopt this kind of behavior (although the veterans keep on trying to provoke him). This is of course the Kuji we know and love :) I liked the first half of the movie because of the psychological aspect; the fear of going to the front, not knowing if you're going to see your loved ones ever again is almost more powerful than the actual fighting. When the fighting starts, it's very painful to watch how they are already on the losing side because of the shortage in weapons and ammunition. Individuals are reduced to bodies in the wink of an eye. I loved the part with Michiko, his wife, the scene was very delicate and small. There's chemistry between the two, not only as characters, but as actors. Even when they're not together, you can still feel it, you feel her absence.
Ningen no jôken (Human Condition II - The Road to Eternity) Quotes
There are no approved quotes yet for this movie.