Human Resources
(1999)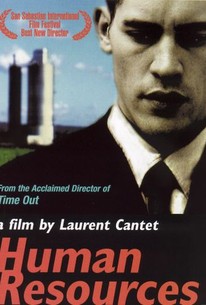 Movie Info
Franck, a Parisian business school student, takes an internship in the Human Resources department at the factory where his father has labored for the past 30 years. When Franck's efforts to better the company lead to the firing of many employees, including his father, a furious confrontation ensues, forcing father and son to ponder their relationship while realizing their individual lives.
Critic Reviews for Human Resources
Audience Reviews for Human Resources
½
Bright student receives an internship at a firm and is seen as a rising star. The results from his first report causes some of the workers to lose their jobs, including his father. Now, he has to choose between his career and saving the lost jobs. I did not care much for the ending.
Aggie 99
½
[url="http://www.rottentomatoes.com/m/human_resources/dvd.php?select=1"][img]http://images.rottentomatoes.com/images/movie/coverv/44/230044.jpg[/img][/url] All unknown actors to me, but they were all very good. Laurent Cantet has made another great film. He is quickly becoming one of my favorite film makers. Hard story of a relationship between father and son, worker and boss. The script was quite good. It was the type of film that you did not want to end. All good. It could be a ten. The film is so understated on so many levels it just feels like a nine. But that is not a very good reason for not giving it a ten.
M Sarki
½
[img]http://metropolis.japantoday.com/xmg/508/undisputed-deadlook.jpg[/img] While Denzel Washington was receiving heaps of critical accolades for his admittedly impressive work as Ruben Carter in the trite and formulaic [b]The Hurricane[/b], Wesley Snipes and Ving Rhames received little to no praise and publicity for their efforts in the much more challenging and entertaining [b]Undisputed[/b]. While Denzel's film strived for a curious form of politically correct political consciousness and exhibited an oddly detached sense of empathy for its principal subject, [b]Undisputed[/b] kept it real, kept it simple, and made us give a damn. Most critics dismissed director Walter Hill's movie as just another cliché-ridden sports movie that celebrated violence and manliness at the expense of any sort of moral-centeredness. What these folks failed to understand was that [b]Undisputed[/b], as evidenced by its cleverly ironic title, was in fact a thoughtfully layered examination of our peculiar fixation with watching grown men pummel each other as a means of enjoyment. Much like Robert Wise's [b]The Set-Up[/b], made some fifty years prior, Hill's movie seeks to scrutinize this obsessive fascination while reminding the audience of the ethical consequences of their deranged craving for fulfillment. The film's two lead characters, Monroe Hutchins and Iceman Chambers, are very different individuals although they both share a comparable thirst for competition, and a similarly tragic history of violence. Chambers is the heavyweight champion of the world, until he is convicted of rape and sent to Sweetwater Prison, where Hutchins resides, serving a life sentence for murder. Monroe is the champ on the inside, and Iceman immediately becomes the challenger once he loses his freedom. Both men are undeniably stubborn in their own unique ways; Iceman refuses to back down from anyone by brashly demonstrating his physical superiority over the other inmates at every opportunity, while Hutchins exudes a quiet confidence, remaining calm and withdrawn, confident in the knowledge of his well-earned respect and high standing within the prison hierarchy. Monroe shows respect and deference to the abilities of Chambers, but such civility is not reciprocated by Iceman. The escalating tensions finally lead to an adrenaline rush of a conclusion, giving the audience what they want while at the same time asking them why it is that they want it in the first place. [b]Undisputed[/b] is a loud, bold, flashy boxing movie that is filled with nuance and subtlety. Hill's movie asks many stimulating questions, and reveals many of the enticing hypocrisies surrounding our sports-crazed society. Perhaps the most pressing question Hill asks us is, to simplify it considerably, why is fighting only acceptable when it takes place within a ring in a controlled environment? Monroe is serving a life sentence for killing a man with his bare hands, but would he still be in prison if he had done so while inside a boxing ring? Can we remove malicious intent from the equation if both persons assent to the possibility of injury or perhaps even death? Why do we praise men for physically assaulting each other as a means of entertainment, and then punish other men for physically abusing others as a means of necessity? While posing challenging moral inquiries such as these, [b]Undisputed[/b] also takes great delight in observing some of the more sordid qualities patently evident within the world of professional boxing. Ving Rhames' character is quite clearly based quite heavily on the life of Mike Tyson, a fighter whose physique was just as Greek as the path that his career ultimately traveled. Iceman's incarceration, similar to Tyson's, sparks a media and public backlash that immediately vilifies a man who was once idolized by many for rather suspicious reasons. Despite Iceman's insistence on his innocence, his once loyal fans choose to demonize him for his sexual exploits. But do they disprove of his actions because of the grief that they caused for his victim, or do they selfishly object to his transgression because it will deprive them of their own perverted sense of enjoyment? By the end of the film, it becomes obvious that it is, in fact, the latter. When Iceman is reinstated after receiving an early release due to "good behavior" and regains his heavyweight title, the fans forgive him for all of his sins, and the cries of his victim are completely forgotten. [b]Undisputed[/b] is a searing indictment of our society's inexplicable fascination with the competitive nature of physical violence that was inexplicably dismissed by most critics as a B-movie posing as a big studio blockbuster. While Walter Hill's latest masterpiece may not have the impressive production values that were afforded to Denzel Washington's shallow Oscar vehicle, it contains more original ideas than the majority of most of today's big studio releases, which are infinitely more deserving of being labeled as primped and primed B-movies decked out in Hollywood's emperor's clothes. Most people will look at this movie's premise and write it off as just another dumb sports movie, and these people will unfortunately miss out on one of the most intelligent screenplays of our new century. ... [img]http://www.ragtagfilm.com/archives/images/resources.jpg[/img] When dealing with the subject of the changing face of the increasingly globalized business world, most people seem to trend towards the recently released [b]In Good Company[/b], mostly because it's an insultingly easy movie made for a culture that loves simplicity. While Paul Weitz's latest picture took the easy way out by simply pointing the finger and then patting itself on the back (and even making a few tasteless jokes along the way), Laurent Cantet's debut feature film, [b]Human Resources[/b], tackles a more difficultly ambiguous task. Cantet's movie didn't have a bunch of pretty faces and cute little gags to push what it was selling; all it had was an aesthetically ugly foundation built upon principles, morals, conviction and integrity. While Weitz's movie blatantly and lamely used its broken moral compass to signify a pretense of compassion and empathy, Cantet's movie goes all the way, and doesn't apologize for doing so. [b]Human Resources[/b] is a rare film that doesn't treat business ethics like an after-school special, and reminds us that the resolution is never quite as cute and cuddly as hacks like Weitz would like you to believe. [b]Human Resources[/b] is a docu-drama of sorts that focuses upon the relationship between Franck, an intern for a local labor firm, and his father, Jean-Claude, who has been working the same assembly line for thirty years. When Franck first arrives he's full of piss and vinegar, eager to prove that his federal loans did not go to waste on booze and strippers. Franck attempts to supplant himself on the short-list for future job candidates by deviously circumventing hierarchical expectations and playing the Iago to his superior's Othello. Franck plants the seed in his supervisor's mind that leads to the invariable downsizing of the labor force. But when Franck discovers that his father is one of the unlucky bastards about to get the axe, he is faced with a moral crisis of, well, Shakespearean proportions. Rather than sit back and let nature run its course, Franck decides to take action, and learns an immeasurably valuable lesson that was conveniently glossed over during his course lectures. After secretly confiding with one of Jean-Claude's colleagues, Franck breaks the news to his father in a decidedly inconsiderate fashion, indicating that while his intentions were pure, his sympathy was not. The remainder of the film focuses upon Franck's search for moral certainty within an endless maze of contradictions; a search that proves just as empty and futile as his union's quest for justice and fairness. Cantet's film asks many arresting and timely questions dealing with the relationship between workers and management, and the responsibilities each one holds for the other. It also directly confronts the shifting ideological expectations of the business world, which no longer favors experience in their prospective employees, but rather potential. Franck certainly has plenty of potential, enough that his new employers feel they can successfully mold it their own advantage. But what they did not anticipate was that Franck would hold a moral resoluteness concrete enough to match his impressive intellect and ingenuity. Unlike [b]In Good Company[/b], Cantet's aspiring youngster doesn't selfishly reconsider his choice of profession because he is threatened with termination, he does so because he knows a pile of horseshit when he sees one, and isn't about to stick around and ignore the smell, either. When Franck is confronted with the need to throw his friends and family under the bus in order to advance his own career, he doesn't balk at the appropriate solution. Rather than securing his place in the firm's highest ranks, Franck undergoes a complete transformation and begins to take action against what he perceives to be a great injustice and unjustifiable disservice to the company's loyal servants. But, in a stark contrast to Franck's youthful positivism, Cantet interjects his own weathered pragmatism, reminding us that the right decision isn't always the right decision after all. There's no denying that [b]Human Resources[/b] is a heavily biased and heavily manipulative film. Cantet makes no effort to disguise his political leanings, and the movie is all the more powerful because of it. While I hate tree-hugging socialism as much as the next guy, Cantet's film isn't nearly as radical and ideologically driven as others seem to believe. The heart of the movie is not found in some boring political thesis, but in the consideration and empathy shown towards the people who really matter in all of this. Cantet doesn't deliberately make his workers infallible saints deserving of our respect and charity, he makes them earn our equal sense of compunction. To this end, he employs some manipulative means, but not in the vain of some overbearingly condescending "humanism" like you'd expect from Lars Von Trier or someone of his ilk. Cantet's intentions are far too pure to sink to such depths of posturing elitism, and his purity makes our identification with the principal subjects all the more fulfilling. [b]Human Resources[/b] is a great example of what a promising young filmmaker can accomplish without the aid of big noisy visuals and big expensive talent. Cantet's debut offering proves that all you need to make a good film is a great story and a ton of enthusiasm. While some may mistakenly mistake Cantet's offering of the latter as muddled pessimism, there is little doubt that Cantet really does give a damn about what he's doing, which is more than I can say for the majority of his contemporaries. Many have derided the film as boring and unimaginative, repetitive and unconvincing, contrived and disingenuous, but in a day in age when all anyone gets worked up over anymore involves giant apes, talking lions and fictional superheroes, it's refreshing to see someone who actually has something interesting to say, and actually has the balls to say it.
Some Guy
Discussion Forum
Discuss Human Resources on our Movie forum!