The Human Shield
(1992)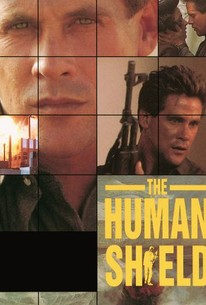 AUDIENCE SCORE
Critic Consensus: No consensus yet.
Movie Info
Ted Post directed this account of a former government agent (Michael Dudikoff) who must rescue his brother, a diabetic, from his Iraqi abductors.
Rating:
R
Genre:
,
Directed By:
Written By:
In Theaters:
On DVD:
Runtime:
Studio:
Cannon Home Video
Critic Reviews for The Human Shield
There are no critic reviews yet for The Human Shield. Keep checking Rotten Tomatoes for updates!
Audience Reviews for The Human Shield
½
This movie's synopsis on the back cover boasts that it is "the first motion picture to portray the frightening and unthinkable events of the Gulf war." Really now? This movie doesn't come off nearly as seriously as it tries- and it DOES try. The man, Michael Dudikoff, gives one of his most earnest straight "acting performances," but halfway through, I think all involved just decided "fuck it," and turned this into another action adventure vehicle for Dudikoff to grimace vacantly throughout while ducking and rolling through stunt men. The plot sees old Mikey play Captain Doug Matthews, a CIA instructor sent to Iraq in the 80s who gets on the hilariously cheesy Sadam Hussein lookalikes' bad side (Ali Dallal, played by Steve Inwood). Years later, Dudikoff's brother is held hostage in Iraq, and since no one wants to help him get his kin back, he sneaks into the country himself and goes on a rampage; along the way, Duds is helped by a former flame, and races against time to save the day. I thought this was just okay. It's Dudikoff, so it's got a lot going for it already. But much of the film has Dudikoff going all dramatic on us a la Platoon Leader, and it just doesn't work. I can't say I enjoyed this more than, say, 'Moving Target' or 'Cyber Jack,' but it had its moments- the "concerned" look on Dudikoff's face whenever he sees something atrocious to human dignity, Dudikoff trying to raise his voice in anger- all were good and provided many chuckles. Watching 'the Human Shield , I'm sure that it came off as way more dramatic and serious on the written page than the end-result on my tv screen. The cast and crew in all actuality WERE probably extremely earnest and intent on sending some kind of message. Unfortunately, the actors aren't up to par, the execution of the action comes off as American Ninja-lite, and the end -result is a glorious mess of late night B movie cheese. I can't really hate on this movie, much like I can't hate on Dudikoff's other big dramatic turn in the hilarious 'Platoon Leader,' but then again I'm biased. This is definitely a sleeper in the Dudikoff library. You don't see it referenced too much by hardcore Duds fans, and I think the reasons outlined above explain why. It's not campy enough to be great, but it's not capable to be taken seriously either. As an end result, it is just another excuse to see Michael Dudikoff save the day, kick some ass, and get the girl. Really, is there anything else you want to see at the end of the day? I enjoyed it, but I can't say I didn't sneak in an episode of Cobra or two halfway through the sitting. This movie is one of the last Michael did for Cannon films, and while there are still vestiges of Golan Globus goodness (especially in the anti-Arab stereotypes and terrorist caricatures), the glory days of 'American Ninja' excess were over. Hardcore Dudikoff fans will want to check this out if they haven't seen it already- it's only on VHS, so it might be tough to track down, but you shouldn't have (and wouldn't want) to pay more than a buck for it used. All others would be advised to check out Avenging Force or the American Ninja movies first, to understand the huge impact of Michael Dudikoff on bad action.
Jason Anderson
The Human Shield Quotes
There are no approved quotes yet for this movie.