Humperdinck: Hansel and Gretel
(2008)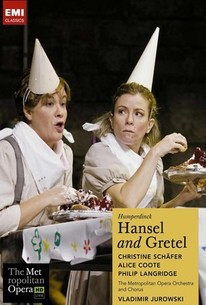 AUDIENCE SCORE
Critic Consensus: No consensus yet.
Critic Reviews for Humperdinck: Hansel and Gretel
There are no critic reviews yet for Humperdinck: Hansel and Gretel. Keep checking Rotten Tomatoes for updates!
Audience Reviews for Humperdinck: Hansel and Gretel
(fuller review will come later....) A most unusual production. This version of the opera is sung in english (sometimes the accents of the singers are a bit thick, but that's a minor complaint). Humperdinck's HANSEL AND GRETEL is the Grimm fairy tale, with some changes. The titular characters, hungry and bored, break a jar of pudding. Their mother comes home, grumpy and depressed. She scolds them and sends them to the Haunted Wood to collect some berries. Father returns home, drunk, but also with a bag full of food. Mother and Father are overjoyed, but then, they realize that the children have not come home yet. They rush out to find them. In the haunted wood, Hansel and Gretel are lost. After it gets dark, the Sandman comes out and puts them to sleep. Then they have a dream where the "fairies" come out with a feast for them. Upon awaking, the dew fairy comes out, apparently the one respnosible for the dream feast. Hansel and Gretel find the 'gingerbread' house, where a witch likes to eat children. However, Hansel and Gretel outsmart the witch and throw her in the oven. All the gingerbread children return to life, mom and dad finally find them, and they all eat the burnt-up witch. While I'm no expert on operas and such, I do find them totaly fascinating and enjoyable. This was no different. I was aware of the rather different production this time around. Instead of doing a traditional staging, with real sets of gingerbread house and forest, this one presents all the scenes in a "kitchen". By this, I mean that the haunted wood is presented as a gigantic, posh, dining room, with an elk chandelier, leaf-patterned wall-paper, a long table, and tall-men in suits who have bundles of branches for heads. The setting is also somewhat contemporary, with occasional anachronisms that suggest a world of the 1950's filtered through the Depression. The opening scene has a pallete of white and grey, with the children (both parts are played by women) sitting in a larger than life, drab kitchen. Mother tries to commit suicide with pills. This is one of the more troubling parts of the production, as it stands out as a little too crazy, but then again, this production does contain an army of fat little french chefs with creepy grins. Actually, about that....the "dew fairies" in this production are now shown to be fat chefs, with huge rubber head masks. Their glass-eyed looks are totally creepy and with a huge amount, are utterly terrifying. The sandman is now shown to be a decrepit old man (actually a woman in some great prosthetics), who walks into the haunted woo- ...haunted dining room, and throws dust at everyone, including the walking "forest" of branches in business suits. The witch is probably the best part. It's a man in lots of makeup and rubber, so he looks like a nighmare version of your grandmother. It doesn't help that they accentuate the weight and chest size, so it looks totally ridiculous and scary at the same time. The gingerbread house is not longer made of candy and sweets. Instead, it's a rather frightening looking industrial kitchen, with lots of life-sized models of children with birthday hats. They are, of course, gingerbread kids, who are half-eaten and burned. The witch then paints a smiley face on the rusty oven, smearing it and cackling. There are moments of brilliance in the production, but for the most part, it's rather sedate and not exactly magical. Surreal, yes, but not really a tale. In fact, some of the visuals are at complete odds with the music, especially the scenes in the haunted wood, but that may be just how it's done. In any case, seeing lots of deformed fat chefs walking slowly with lots of food set to slow, beautiful music is incongruous, to say the least. The music and performances are wonderful nonetheless, and the ending is marvellously creepy. (Yay! roasted witch for dinner!) Also, watching the opera will make you hungry, despite its voracious attempts to convince you otherwise.
Robben Munoz
Humperdinck: Hansel and Gretel Quotes
There are no approved quotes yet for this movie.
Discussion Forum
Discuss Humperdinck: Hansel and Gretel on our Movie forum!