Hunt to Kill
(2010)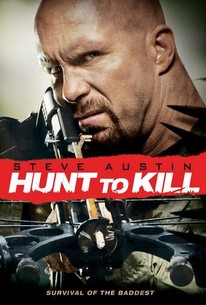 AUDIENCE SCORE
Critic Consensus: No consensus yet.
Movie Info
Divorced single father and U.S. Border Patrol Agent Jim Rhodes (Steve Austin) strikes back with a vengeance after being kidnapped, along with his teenage daughter, by a dangerous gang of fugitives. Now, in the dense Pacific Northwest mountains, hunting season is about to get underway.
Audience Reviews for Hunt to Kill
It's amazing that an actor can play the exact same character in every single film - Of course, Van Damme's been doing it for years, but Austin seems to be ready to take the reigns. 'Hunt to Kill' is a bottom of the barrel action flick, with an ending so ridiculous, I'll be laughing for days.
Bloodmarsh Krackoon
I was surprised to see three The Expendables stars who play villains reappear in this Steve Austin action-flick. Austin is just like Rambo and can fall down the rocky sides of mountains, get stabbed or shot repeatedly, take massive blows from hard objects, and bleed like a stuck pig, yet keep coming - God, I love action movies fro these sorts of implausibilities. Gil Bellows finds his inner beast in this movie, no conscience, willing to break any sort of possible negotiation for that bag of bonds - the embodiment of the repellent action movie villain. The fight scenes and action set pieces are well choreographed and executed and the team behind this must be congratulated on there efforts.
Dean McKenna
Super Reviewer
½
2 1\2 stars outta 5 is being awefully kind! Stone Cold Steve Austin is the star in this, he cannot act whatsoever however he gets points just for being cool as he is! This movie has 'b' written all over it, ever now and then pushing the 'a' level then rapidly falling back down to 'b'. Steve Austin is an ex border patrol officer who after his partner is killed (Eric Roberts) he spends his life raising his attitude prone daughter in the mountains. After hearing that his daughter has been up to know good yet once again and has been detained by the local sheriff's dept he travels into town only to meet up with a gang of theives who are looking for their former boss who had left them for death. Looking to issue out a little payback so to speak and also re-capture their money from the last job performed they take Steve and his daughter captive in order to escort them through the woods to find their prey only the tables could be turned and the hunters could find themselves the hunted. Not a bad movie, I am not a fan of movies that are cheaply made or 'b' movies if you will, however this kept me entertained through out although i highly doubt i would re watch it again!
Hunt to Kill Quotes
There are no approved quotes yet for this movie.
Discussion Forum
Discuss Hunt to Kill on our Movie forum!