Hurlyburly
(1998)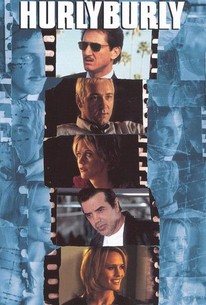 Movie Info
David Rabe's popular play of Hollywood immorality and decadence is brought to the big screen by director Anthony Drazan and an all-star cast that includes Sean Penn, Robin Wright-Penn, Kevin Spacey, Meg Ryan, Chazz Palminteri, Garry Shandling, and Anna Paquin. The film is set in the Hollywood Hills and tells the story of Eddie (Penn) a drinking-smoking-snorting-womanizing casting director and his philandering partner-roommate Mickey (Spacey). Along with their buddies Artie and Phil, they sit around and pontificate about the meaning of life -- that is, the meaning of their lives, of which there is very little. Eddie is in love with Darlene (real-life wife Wright Penn), but she is also seeing the married Mickey. When Artie brings Eddie and Mickey a "care package" in the shape of a pretty, disillusioned hitchhiker named Donna (Paquin), they take turns throwing her around until, yet again, their own empty pathetic lives preoccupy their paranoid minds. As people and relationships deteriorate everywhere, the guys try to pick Phil by giving him the gift of a washed-up exotic dancer, Bonnie (Ryan). Of course she ends up just more abused than ever as she and the rest of the gang hit rock bottom.
People Who Like this movie also like
Critic Reviews for Hurlyburly
Audience Reviews for Hurlyburly
Self-indulgent b.s. Spacey proves he can talk a million-miles-a-minute about a whole lot of nothing.
Laura Cameron
Super Reviewer
With this cast, the film should have been so much better than it is. It's a pleasant enough ride, that ultimately goes nowhere.
Anthony Valletta
Super Reviewer
I've read a lot of feedback to this film, which is by and large rather negative. I've noticed that people who dislike the characters occupying Hurlyburly often criticize the film itself as a result. We are not intended to embrace the lifestyles of these characters. This is a picture that encompasses a sub-culture and the neuroses of certain types of people. It is an intelligent, articulate piece with a venomous sense of cynicism and blunt sensibility. The men focused on are self-obsessed chauvinists, but they are not reduced to amplification of their flaws. Their pain and dilemmas are familiar, and they serve towards an unnerving portrait of emptiness. I loved this movie because I love great acting. Watching what some of these actors do with the script is so exciting and astonishing, particularly the brilliant Sean Penn. The writing and performances are phenomenal, but this is a movie that probably only appeals to people who like stage-oriented pieces.
Hurlyburly Quotes
There are no approved quotes yet for this movie.