Hush!
(2002)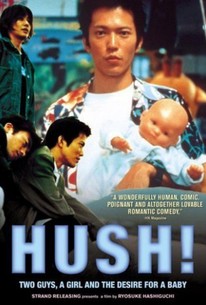 Movie Info
A couple trying to sort out their relationship find a strange woman throwing a spanner into the works (in a number of unexpected ways) in this drama from Japan. Katsuhiro (Seiichi Tanabe) is a engineer who has personally come to terms with the fact that he's gay, but he lacks the courage to come out to his parents. Katsuhiro meets Naoya (Kazuya Takahashi), a fellow who works in a pet shop and hasn't had much like finding a boyfriend on the club circuit. Katsuhiro and Naoya hit it off, and it looks like they're on their way to a mutually satisfying relationship -- or at least they are until Katsuhiro meets Asako (Reiko Kataoka), a young woman with a checkered romantic past and a fragile emotional nature. Asako has decided she wants to have a child, but she's not involved with anyone at the moment; after encountering Katsuhiro, she decides he has the qualities she's looking for in a father, and asks him to help her get pregnant. Katsuhiro isn't sure this is a good idea, while Naoya is very much against it, but Asako is insistent, and as the two men debate the issue, Katsuhiro for the first time receives acknowledgement that his family is aware of his sexual preference when they tell him that cooperating with Asako would be a bad idea -- though they're not so thrilled with Naoya either. Directed by acclaimed filmmaker Ryosuke Hashiguchi, Hush! was screened as part of the Directors' Fortnight at the 2001 Cannes Film Festival.
Audience Reviews for Hush!
½
Apart from Japanese cultural tension, it was interesting to feel the intimate thickness between Katsuhiro and Naoya (two male lovers) as they try to cope with their relationship and childhood baggage. As if this wasn't challenging enough, along comes Asako, a girl who wants them to father her child. It reminds me a bit of Okoge in ways, but is actually darker in mood. (Must be Yoko, the psycho, female coworker who is stalking one of them.) It pained me to no end to see them all suffering.. there were so many instances where a character needed a simple hug to make it all better and no one gave it to them! A simple hug. Again, should I chalk this up to culture? The movie is acted and shot well. The affection between the characters is more than convincing. It definitely feels like a slice of real life with a slight twist.
Deep Kid
Hush! Quotes
There are no approved quotes yet for this movie.
Discussion Forum
Discuss Hush! on our Movie forum!