Hwal (The Bow)
(2007)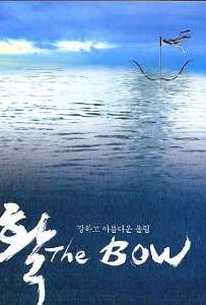 Movie Info
A crusty old man and his teenage bride-to-be find their secluded life at sea turned upside down with the arrival of a mysterious teenage boy in The Isle director Kim Ki-duk's quiet and contemplative drama. They've been together for ten years, and as the girl's seventeenth birthday draws near so does the union of this unlikely May-December couple. Aside from his young companion, the thing in life that the old man holds dearest to his heart is his bow. Not only is the bow an effective means of warding off would-be suitors who would seek to spirit away his young shipmate, but a shamanistic fortune-telling device and a musical instrument capable of producing enchanting melodies as well. After drifting on the ocean waves together for an entire decade, this couple suddenly finds the waters becoming treacherous not by the wrath of mother nature, but the introduction of a teenage boy whose presence quickly upsets the pending wedding plans. ~ Jason Buchanan, Rovi
Critic Reviews for Hwal (The Bow)
Audience Reviews for Hwal (The Bow)
The Bow is a haunting, compelling, beautiful, controversial, meditative, and complex drama and character study. It's a shame that this only the second film of Ki-duk Kim's that I've seen (The other being the superb, The Isle), as he has blown me away yet again. In fact, I think I enjoy this film even more than The Isle, and I would definitely say that The Bow is not only one of the greatest dramas I've ever seen, but may very well be among the absolute greatest films I've ever seen. The plot is quite simple as it takes place entirely in one location with a very small cast of characters who remain nameless. A 60-year-old man has been caring for the young girl living on his boat ever since she was 6 and plans to marry her when she turns 17 in a matter of months. He runs a small fishing business by bringing clients out to his fishing boat, while the girl helps him with small tasks, or helps him tell fortunes by means of sitting on a swing on the side of the boat while he shoots arrows at the picture on the side of the boat, while also narrowly avoiding killing her as each arrow passes her. Despite such danger, the old man is very protective of her, and vice versa, and the two will do anything to protect each other from danger by using a bow and arrow set with deadly accuracy. The young girl knows nothing of the outside world, and remains in her small little world on the fishing boat, until one day, a young man gives her his Ipod (Or MP3 player, I'm not sure what it is, exactly), which begins to broaden her thoughts of the outside world through such a simple means, which angers the old man. The relationship between them slowly begins to fall apart and she no longer remains passive to him as she rebels and their small world also begins to collapse, even more so when the young man makes more visits and starts to become more vocal and defensive of the young girl. A small war begins to wage among the three and anything can happen in the middle of nowhere. The acting is superb in the film, even though there is very little dialogue. Hell, you never even hear the two main characters talk. The acting comes almost entirely through expressions, emotions, and actions, and forces the viewer to analyze all the details to get an idea of the situation. The actors are very believable, and there are some absolutely gripping and harrowing scenes just through their subtlety. I couldn't take my eyes off the screen because of how damn good the actors were. The film also moves at a very slow pace, with very little that happens - that is, if you don't pay attention and analyze all the little details. For me, I found the film to be gripping and harrowing, and also quite emotional when it wanted to be. In fact, it's more intense than most other dramas are through their bombastic and overwrought dramatic scenes. I was never once bored and I loved that the film forced me to look at every detail, however small to get an idea of the grand scale the film truly has beneath its simple exterior. Should you not pay attention, you will carelessly dismiss this film as slow-moving and where nothing happens, where in reality, you would be quite mistaken. I was also very surprised by how well and how delicately it handled its very controversial premise about an old man marrying such a young girl. But the film never becomes crass, horrifying, or disgusting in its portrayal of the subject, but rather, it's done tastefully and carefully. The Bow is a masterful drama with a gripping story, superb acting, beautiful visuals, stunning music, and many other elements hiding within it waiting to be discovered. It's a film that forces the viewer to think and to analyze and it's also a very meditative and quiet piece that packs a hell of an emotional punch. If you love a good drama and are a patient viewer, The Bow is not something to miss.
Keenan Sullivan
½
Usually I go out of my way to write a review because a film was particularly good. The bow inspired me for opposite reasons. What is sad about this film is it had potential to be a 4 out of 5 star film. With a strong start, other than the obvious fake music mimicry, it eventually trailed off into weirdness that made no valid sense at all. ***WARNING SPOILIER*** So this young teenage girl is about to be married to a fisherman who has taken care of her for 10 years though her parents are still out there looking for her. She finally comes to her senses when her attractions turn towards a man closer to her own age. She fends off the fisherman's jealously, violence, control, and extreme manipulation. When she just about to finally leave him for good the old fisherman pulls one more major manipulative stunt which guilt's her into marrying him. Instead of consummating their marriage physically he commits suicide which might in some way seem a nobler alternative. But his spirit ends up having sex with her while she is in a sleep like trance breaking her hymen with an arrow that falls from the sky he shot before his death. In the final scene she sails away with her previous crush waving in some over the top maudlin sentiment as their fishing boat sinks to the bottom of the sea. Just writing it down makes me realize even more just how dumb this movie really was. I mean was the writer 16 when he wrote this or did he just get so bored he decided to kill his own story with absurdity. He's got potential but has got some maturing to do to say the least.
Paul Fratianni
½
Strange and moody character study about a old man and girl on a boat. Nothing much happens, but it's still weirdly intriguing. Not the best work from Ki-duk Kim.
Hwal (The Bow) Quotes
There are no approved quotes yet for this movie.
Discussion Forum
Discuss Hwal (The Bow) on our Movie forum!