Hyeol-ui nu (Blood Rain)
(2005)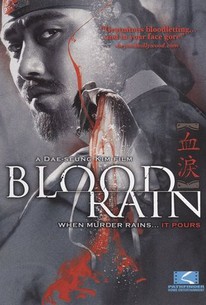 AUDIENCE SCORE
Critic Consensus: No consensus yet.
Movie Info
Mysterious and deadly events are filling the residents of the remote island of Donghwa with a sense of foreboding. A local shaman (Choi Ji-na) collapses during an annual ritual, and seems momentarily possessed by the spirit of Kang (Jeon Ho-jin), a local lord who was executed. Soon afterward, there's a massive fire on the docks just as the paper the island produces is being loaded to be sent to the mainland as tribute. When Lee Won-kyu (Cha Seung-weon) arrives from the mainland to investigate, he finds that the town drunk has been murdered and impaled. While he's investigating the two crimes, another grisly murder takes place, and Lee learns that the deaths mirror those suffered by Kang and four members of his family after Kang was accused of treason and of practicing Catholicism. While other residents of the island, including Kim In-kwon (Park Yong-woo of My Scary Girl), the son of another local lord, apparently try to stymie his investigation for political reasons, Lee digs deeper into Kang's execution, and finds a pit of corruption. At the center of the case is Doo-ho (Ji Seong), a talented artist who was an orphan when Kang took him in. As the body count mounts, Lee discovers that the victims were all informants who denounced Kang. While Lee methodically investigates the crime, the local residents grow increasingly fearful that their island is haunted by Kang's vengeful spirit. Blood Rain marks the second feature of director Kim Dae-seung (Bungee Jumping of Their Own). The film was shown at the 2006 New York Asian Film Festival, presented by Subway Cinema.
Critic Reviews for Hyeol-ui nu (Blood Rain)
There are no critic reviews yet for Hyeol-ui nu (Blood Rain). Keep checking Rotten Tomatoes for updates!
Audience Reviews for Hyeol-ui nu (Blood Rain)
½
Too many characters (their names didn't come easy on me) left me confused a bit too often in this foreign language flick. While I was easily able to identify the protagonist, it wasn't quite the same with some other major characters. Although I was able to get the gist of the plot as the movie ended, it was difficult to remain involved with the mystery. May have enjoyed it more had I been not at loss.
familiar stranger
Super Reviewer
½
Period murder mystery set in 19th century Korea. The story which takes place on a small island just off mainland Korea is about a detective who's been summoned to investigate an arson attack on a merchant ship but soon gets embroiled in a murder hunt after a series of grisly killings start to occur which locals start to believe are being comitted by the vengeful ghost of an executed catholic man who use to run the paper mill. I thought this was a pretty classy filmfor the most part with some graphic and bloody death scenes and a decent story at its core. Unfortunately the film was a little over-stretched and at times confusingly told. It would also have been nice if the supernatural angle was played out a bit more adding a spookier atmosphere. But despite these grievances the movie is a solid effort - like a mix of "Sleepy Hollow" and "The Name of the Rose".
Blood Rain, not to be mistaken with that crap film Bloodrayne by Toilet Boll, is a Korean murder mystery with a dosage of science fiction and religion thrown in. This film is one of the early works for director Dae-seung Kim, but there is nothing to be ashamed of here because this is a better than average movie.
The setting takes place in the Joseon (Chosun) dynasty, which means it is in the costume style of film. The story pans 5 days time because one of the concepts is 5 deaths in 5 days. During these 5 days the film follows the main character of Won-kyu as he puts the pieces together to solve the mystery. In a sense, this film plays out like most other crime stories. Religion comes into play a little bit and while I am not a huge fan of this, it isn't that bad. There is also a paranormal element in this film, which deals with ghosts and spirits, and this is a nice touch for the story.
There isn't any martial arts as we usually tend to associate with costume style films, but there is a good helping of violence. The nice thing about it is that the deaths are pretty graphic and necessary because of the storyline.
The run time is 2 hours and while it never flies by, it doesn't feel like an eternity. The story is interesting enough and the flashback segments happen at good times to gradually fill in the holes.
Seung-won Cha carries the film as the investigator to the crimes and Choi Ji-na is a gorgeous Shaman. The rest of the supporting cast are OK as well.
Blood Rain, while nothing really spectacular, is a good recommendation for fans of Korean or any other type of mystery.
Hyeol-ui nu (Blood Rain) Quotes
There are no approved quotes yet for this movie.
Discussion Forum
Discuss Hyeol-ui nu (Blood Rain) on our Movie forum!