I Am Omega
(2007)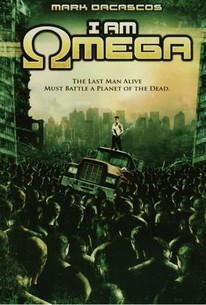 AUDIENCE SCORE
Critic Consensus: No consensus yet.
Movie Info
Straight-to-video martial arts staple Mark Dacascos stars in this apocolyptic sci-fi zombie flick, which casts him as the lone survivor of world annihilation -- that is, if you don't count the throngs of zombie-creatures chasing him.
Audience Reviews for I Am Omega
The Asylum has produced a lot - and I mean a LOT - of bad pseudo sci-fi/futuristic junk over the past decade+, but 'I Am Omega' does not deserve to be included in that roll call. It's not a good movie either but does a few things right and throws in a few effective jump-scares. For instance in this man vs world of mutants scenario similar to '28 Days Later', Mark Dacascos has some screen charisma. Granted he doesn't have 1/50th the martial arts skills of Tony Jaa but at least he can register an emotion other than 'pissed off'. On the other hand, Jennifer Lee Wiggins the woman survivor he meets is perfectly awful. Two military types also show up, and the landscape of the nearly dead is effectively drawn with good makeup and grisly blood effects. A rudimentary story with one all-time blindingly ridiculous contrivance to have the adversaries meet up again in which a man shot in both shoulders and the leg is able to push, yes PUSH, a car out of the city, pass out, and wake up in time to see his enemy's van speed by! All told, I've seen worse episodes of 'The Walking Dead'.
Doctor Strangeblog
Super Reviewer
A low budget ripoff of I Am Legend, Omega takes more from the Will Smith story treatment than the source novella. About the only thing that makes it watchable is the engaging energy that Dacascos, Iron Chef "Chairman" and a prolific character actor and martial artist, brings to the lead role.
John Wagner
½
Nowhere near the excellence of Omega Man but certainly gives I Am Legend a run for its money. I guess since you'd expect a big budget star vehicle such as I Am Legend to be good it disappoints more easily. I am Omega is fun, the creatures are at least real and as such look real. Dacascos may not be as likable as Smith but he still gives a passable performance, mixing enough crazy in with the heroism. The budget of course lets this film down and it is mostly too serious for its own good. I wouldn't recommend it unless you are a fan of lo budget B movies and other Asylum gems, however I wouldn't recommend I Am Legend either.
Luke Baldock
Super Reviewer
I Am Omega Quotes
| | |
| --- | --- |
| Renchard: | "I'm so fucking tired of you bitches!" |
| Renchard: | I'm so fucking tired of you bitches! |
| | |
| --- | --- |
| Renchard: | "There is no plan B!" |
| Renchard: | There is no plan B! |
| | |
| --- | --- |
| Renchard: | "I'm pissing on the world!" |
| Renchard: | I'm pissing on the world! |
Discussion Forum
Discuss I Am Omega on our Movie forum!