I Bought a Vampire Motorcycle
(1989)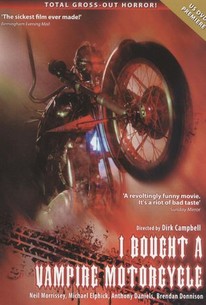 AUDIENCE SCORE
Critic Consensus: No consensus yet.
Movie Info
Bad taste slasher-movies never had it so good. In this horror/comedy movie, the film's hero purchases an antique motorcycle. Somehow, the bike gets a taste for blood, and behaves in every respect just like a traditional vampire (shunning crucifixes, etc.). It also has a taste for human and animal flesh, and is given to dismembering its victims.
Critic Reviews for I Bought a Vampire Motorcycle
There are no critic reviews yet for I Bought a Vampire Motorcycle. Keep checking Rotten Tomatoes for updates!
Audience Reviews for I Bought a Vampire Motorcycle
Looking through my countless review drafts I notice I've seen too many good movies recently (mostly ones I would award 100% to). In hindsight that doesn't like a problem of any sort, except for as much as I love to write about good movies there's only so many praises I could give out before repeating myself like a heavily cliche film. Thus with a title like "I Bought A Vampire Motorcycle" do you really need any other reason to see it? No and sadly it's goofy nature is what ends up killing itself in the end. I Bought A Vampire Motorcycle loose narrative is about an evil spirit inhabiting a motorcycle for vengeance on the bikers that killed his fellow vampires. First and foremost the opening of the film gives no context for the bikers murdering vampires. Much like the writers of the script things just happened in the film just because they can. Protagonist dreams about getting killed by his own talking feces is one notable example. Nothing about the narrative feels connected as comedy overtakes the horror elements that the film was so eager to mix together. Emphasis on comedy is done poorly as the script demands you give up three things; 1.) continuity in plot , 2.) your brain to oversee it flaws, and 3.) interesting characters. Shutting off your brain is easy, but difficult while viewing the film. Plot points created on the spot contradict earlier scenes logic (like never explaining if a vampire motorcycle runs on blood, oil, or both). Characters are nothing more than archetypes not committing an single word for a variation on the archetype. An annoying girlfriend who does little in the story, a priest who performs an exorcism on a possessed motorcycle and gets crucified (no doubt a secret metaphor that represent the writers desire to be forgiven for their sins for creating such as travesty), the best friend that's murder (don't worry, his best friend doesn't care either), the incompetent cop, and vampires weaknesses. These are some of the elements that are chosen only for the approach to be straightforward comedy. Problem being that a comedic situation is given a horror treatment. Since the characters goofy nature imbalances the horror tone and without a care for death there's no fun when a killer motorcycles goes on screen. Treating it nothing more than a everyday occurrence. As for the true horror side of the film it's uninspired. Creativity is lacking for a film titled "I Bought A Vampire Motorcycle" when it comes to its kills. Severely decapitating most of his victims heads is tiresome, although the gore effect are adequate in small numbers. Adding to the tedium are when its victims are given large windows of time to avoid death. Not only are most of the death easily avoidable, but most of his victims aren't important to the plot. One of the best aspect about horror is fearing which character might die. Here it's made abundantly clear which main characters live. Painfully moving at a high velocity for of four miles per hour is a lack of speed. Everything in the film is slow from actors performing physical movements even spoken dialogue is done slowly (especially in delivering its punchline). Don't worry about the bad dialogue as the sound editing is even worse. Music tracks play on way to long, vehicles sound are compress or at times sound like a train, and whenever an actor is talking background noise can drown them out. Everything from the look, the editing, the acting, and the poor writing are scream cheap. Unlike some films were a cheap look can add to the appeal in this case it serves only to further to highlight everything wrong with it. Deciding to do nothing with its premise including having fun with its goofy concept. I Bought A Vampire Motorcycle bad comedy overshadows uninspired horror elements. Mixing both of the horror genres negative aspects (logic gap, continuity, desire for heroes deaths) and bad comedy (nothing ever becomes of anything, no characters cares anything, a single trait reused as jokes) that you'll be left without a laugh or scare.
Caesar Mendez
Super Reviewer
First of all, I'm annoyed that Blockbuster.com told me this was from 1989 when it's really from 1990. This has happened before, it seems I can't trust them when it comes to release years. Second, I was surprised to see that Star Wars star Anthony Daniels has a small role in this movie. He was actually very funny as a priest who rode motorcycles (not the title one) and performed exorcisms. This movie is from England, by the way. The premise of a motorcycle becoming a "vampire" sounds outlandish, and really this movie is very over the top, so don't expect everything to be explained to you. Most of the time this movie is really stupid, as it tries to find a balance between black comedy and gory horror, it fails at both. Overall, this movie isn't worth watching. That's probably why it was so hard to find.
½
My God I had forgotten this even existed. For a twelve year old this was fantastic. For a grown man with the mental age of twelve this is just as good...lol....It isnt as bad as you might think and Morrisey plays his part really well.
Barry Lappin
Super Reviewer
I Bought a Vampire Motorcycle Quotes
There are no approved quotes yet for this movie.
Discussion Forum
Discuss I Bought a Vampire Motorcycle on our Movie forum!