I Am Virgin
(2010)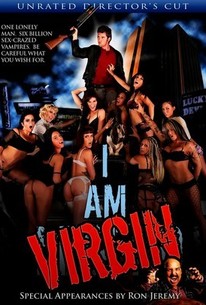 AUDIENCE SCORE
Critic Consensus: No consensus yet.
Movie Info
When a highly-contagious virus kills 99% of the world's population and transforms the survivors into sex-crazed vampires, one lone virgin must put his libido in check and resist the allure of the living dead. Featuring a special appearance by porn superstar Ron Jeremy. ~ Jason Buchanan, Rovi
Rating:
NR
Genre:
,
Directed By:
On DVD:
Runtime:
Cast
Critic Reviews for I Am Virgin
There are no critic reviews yet for I Am Virgin. Keep checking Rotten Tomatoes for updates!
Audience Reviews for I Am Virgin
I have done it. I found the worst movie of all time and this is it! It's like cheap pornography with ugly people and bad actors. It's not even cheesy like a pornographic film with a story. This one has only about a paragraph worth of dialect and makes no sense. I high recommend no one sees this one. I want to be the last one.
Alex T
With the advancement of internet pornography, not to mention how so damn easy it is to access, one would think that the sub-genre of softcore pornographic films would go on the decline, but such is not the case as they still seem to be showing up on a regular basis. Take I Am Virgin for instance. What I thought was going to be a cleverly-bad I Am Legend spoof winds up being about 30 minutes of story about a highly contagious virus that kills off most of the world's population, turning them into vampires, while leaving one lone virgin who must continue to survive by resisting the temptation of all the vampire vixens around him. The rest of the film's hour belong strictly to overlong, painfully dull sex scenes that go on and on and on and on. The nudity cup overfloweth, which was nice, but the sex scenes are dancing on that softcore-hardcore line to wildly that it almost seems like the filmmakers shot actual sex and just edited out any potential penetration. If that was the case...why? Why not just release it as a porno film? If that wasn't the case...again...why? Why bother making a such a risque softcore film when I can just walk 15 feet to my computer and get the real deal? The women in this are definitely gorgeous. In fact, one would imagine them to be a part of the notorious Suicide Girls gang, but none of them are surprisingly. This is a shame because their looks and style are dead on matching, yet the women of I Am Virgin are far prettier than the Suicide Girls. Oh well. Ron Jeremy shows up for a few chuckles but that's about it. I'd recommend this film to the 12-15 year old crowd who tries catching these films late at night on Cinemax whilst mommy and daddy are asleep. They'll appreciate this film so much more than I did.
Jason Duron
Funny small budget film I caught at an indie theater. This movie was campy, cheesy and full of naked vampires. What more can you ask for in a movie? It is a spoof of I am Legend, but instead of a german shepard, Robby, hunts for fellow survivors with his slow basset hound. The zombie apocalypse in this movie was on par with the big budget films. There were tons of boobs in this film though, so not for the boob-shy. More like for the boob enthusiast. Ron Jeremy makes a funny cameo. I just wish that the main character (spoiler alert) would finally lose his virginity in the end. Maybe on the DVD extra features there could be a deleted scene where he goes *all the way.
Barbarella Barrett
Discussion Forum
Discuss I Am Virgin on our Movie forum!
News & Features