The Clowns (I Clowns)
(1970)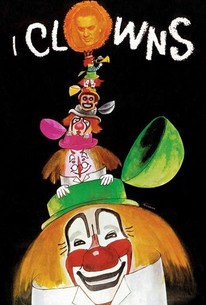 The Clowns (I Clowns) Photos
Movie Info
The culmination of filmmaker Federico Fellini's lifelong love affair with circus folk was his 1971 The Clowns (I clowns). Fellini's alter ego this time is a young boy, taking in his first circus (again, we're treated to the "parade" motif so often utilized by the director). As the clowns go through their rollicking routines, Fellini takes the time to snipe at movie critics by having one humorless newspaperman, who keeps repeating "What does it mean?", inundated with pails of water. There is also a fleeting homage to Charlie Chaplin in the form of Chaplin's daughter Victoria, who portrays an auditioning clown. Made for Italian TV, The Clowns sustains its exuberance by taking absolutely nothing seriously--not even Fellini, who makes fun of himself throughout in the guise of a pretentious documentary filmmaker.
Critic Reviews for The Clowns (I Clowns)
Audience Reviews for The Clowns (I Clowns)
½
"The Clowns" was partly made for Italian television, so perhaps it shouldn't be measured against other Federico Fellini films. Regardless, it's probably the director's least interesting work. If you're someone who still howls with glee at pratfalls and confetti cannons, please disregard this review. But otherwise, be warned that this tribute to the traditional clown is unlikely to make you laugh. Not even once. Fellini and his crew visit some circuses in Italy and France, and document various ring antics. A few wistful, retired clowns are interviewed. But this is not a strict documentary. The film opens with a depiction of the young Fellini sneaking into a traveling circus. We glimpse his town, where the sideshow qualities of everyday people underscore Fellini's standard "Life is a carnival" manifesto. The climax is an extended "death of a clown" set piece. A segment with Anita Ekberg trying to buy a panther also feels staged, and many other scenes seem too perfectly executed to be true. Fellini was too much of a taskmaster to leave everything to chance. There isn't much insight into the clowns' minds and, beyond some knowledgeable talk of the distinction between "white clowns" and "augustes," minimal academic background is offered. Fellini appears on camera as himself -- "The Clowns" is part a documentary, and part a documentary about the making of a documentary. The can't-miss moment is when a pretentious interviewer asks Fellini about the film's "message," and some prankster drops buckets over both parties' heads. Clearly, Fellini realized this was not one of his major statements. My viewing experience was somewhat hobbled -- the Italian dialogue was subtitled, but not the French. Luckily, the film is mostly visual.
Eric Broome
Super Reviewer
The Clowns (I Clowns) Quotes
There are no approved quotes yet for this movie.