I Do...I Did
(2009)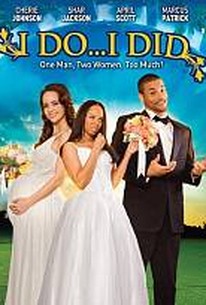 AUDIENCE SCORE
Critic Consensus: No consensus yet.
Movie Info
Rating:
R
Genre:
Directed By:
On DVD:
Runtime:
Critic Reviews for I Do...I Did
There are no critic reviews yet for I Do...I Did. Keep checking Rotten Tomatoes for updates!
Audience Reviews for I Do...I Did
Very uninteresting cast. It's also extremely unrealistic. In the end all was right with the world as Vivian' s (Cherie Johnson) ex husband's wife died leaving room for Vivian and Marcus to be united once again.
Morgan Bane
I cannot believe this movie. The characters are ridiculous. If I were to do be in the main characters situation my decisions would be much different. This movie is nothing more than cheap drama. You will be disgusted at the way these people act and the decisions that they make. I watched it for free on BET. If you get a chance, watch it and then you will understand what I am talking about.
Hassib Kadir
Bottom line on this one: A DISGUSTINGLY racist movie that lacks a consistent pace and displays no verisimilitude due to a complete lack of sensitivity. Based on the cover and scant description I could find online (which was all I had to go on as I don't recall this one coming out in the theaters) I expected a light hearted comedy. Boy was I wrong. The first 20 minutes or so we see a heartwrenching situation develop. On the day of his wedding, the groom, Marcus, gets into a car wreck which leaves his wife, Viv, in a coma. We then see him visiting her for months, keeping up hope she'll wake up, until he maxes out his credit cards and is told there's nothing left that he can do. He tells them to take her off life support, though he decides not to stick around and watch her die. (Now, I must say here the plot is kind of stretched to the max as it is. Maybe he would have found it too hard to have attended the funeral, but wouldn't he need a death certificate from his first marriage to get married a second time? I guess we aren't supposed to think of things like that. Anyway...) Flash forward a year and Marcus has remarried. Though Marcus and Viv are both African American, his new wife is Caucasian, not to mention very pregnant. When Viv wakes up, we learn her father has died so that Marcus feels he must 'take her in' until she figures out what to do. Of course, no time has passed for poor Viv, seeing as how she slipped into a coma on her wedding day. Marcus' new wife is as gracious as she can be, though Viv displays a childish lack of immaturity which could perhaps be forgiven, considering the unique and difficult circumstances they are under, except for the fact that Viv never really grows throughout the entire movie. She remains selfish towards Marcus' new wife from beginning to end. (Yes, I realize there is a voice over in which Viv claims that she and the new wife are now 'best friends,' but this comes across as nothing more than a very thinly disguised last ditch effort to erase the otherwise racist tone of the movie and redeem Viv's character a bit. It doesn't work.) There are many scenes where Viv and her best friend throw around racist insults at Marcus' new wife, who generally takes them without defending herself as she breaks into a crying fit. Yes, she finally does break down and hurl a few racial slurs back at Viv towards the end, which only makes you think of the old maxim 'two wrongs don't make a right.' Neither side is innocent in this one--to an extent, everyone is equally guilty of playing into racial stereotypes--the white girl with a rich daddy, the ghetto best friend who wants to tazer a pregnant woman. All of it leaves a sour taste in the mouth, especially when you stop and think how little regard everyone seems to have for the poor, unborn baby the second wife is carrying. I thought this one had potential--first as a comedy, then maybe even as a drama. But the odd mixture of the two combined with the racial tension--all of which seems to portray an outdated attitude that interracial marriages are wrong because everyone knows 'brothers' belong with the 'sisters'--well, it just ends up in a big, misguided, misdirected mess. Sadly, I hesitated before writing this review. I'm sure there are those who will point fingers and say I'm the racist. That's just the way America seems to be, even today. I'm not a racist, however, but I can recognize it when I see it. This movie has it in spades. So it just left me feeling a tad demoralized for having even watched it, kind of like how you feel for rubbernecking at the scene of an accident. Not good. Not good at all.
Heather Hicks
I Do...I Did Quotes
There are no approved quotes yet for this movie.
Discussion Forum
Discuss I Do...I Did on our Movie forum!