I Fidanzati
(1964)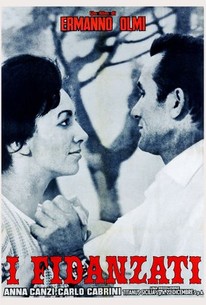 AUDIENCE SCORE
Critic Consensus: No consensus yet.
Movie Info
Absence does indeed make the heart grow fonder as is seen in this romantic drama. The story begins when the young protagonist takes an 18 month long welding job in Sicily. Feeling that he and his fiancee, who have been together so long that their relationship has become stale and predictable, need a break, he looks forward to the trip. He is not long in Sicily before he begins pining for his true love. He tells her his feelings in a postcard and the relationship again begins to flourish.
Rating:
NR
Genre:
, ,
Directed By:
Written By:
In Theaters:
On DVD:
Runtime:
Studio:
Criterion Collection
Cast
Audience Reviews for I Fidanzati
[center][font=Times New Roman][size=4][img]http://1.bp.blogspot.com/_3mCOm4wxK3M/SUj_8nLojAI/AAAAAAAABR0/y9h8lbEiKNE/s400/fidanzati2.jpg[/img][/size][/font][/center] [font=Times New Roman][size=4][/size][/font] [font=Times New Roman][size=4]Summary (from IMDB): In the industrial North, Giovanni is a skilled factory worker offered a promotion if he'll go to Sicily for 18 months to assist in a new department. His impending absence strains his already nearly wordless relationship with Liliana, his fiancée.[/size][/font] [font=Times New Roman][size=4][/size][/font] [center][img]http://2.bp.blogspot.com/_3mCOm4wxK3M/SUkAMOiexBI/AAAAAAAABSE/L5B9j8d93Ec/s400/fidanzati.jpg[/img][/center] [font=Times New Roman][size=4][/size][/font] [font=Times New Roman][size=4]What to say, what to say. This movie was much more quiet, slow, and romantic than I could have ever expected, and it was fantastic. The meat of the film is told mostly in flashbacks as the present-time storyline is somewhat unimportant. (Well, it's not really because it spends its time illustrating the main character's loneliness.) The flashbacks show us how the man comes to be where he is, as well as what he left behind, and it's all done in a way I've rarely seen before. It almost reminded me of The New World in the way it treats its romantic relationship, and uses unconventional sound and image editing.[/size][/font] [font=Times New Roman][size=4][/size][/font] [font=Times New Roman][size=4]The present timeline, though I mentioned it was somewhat unimportant, was still amazingly poetic and photographed. I loved watching this man stumble upon many different interesting, calming places. Heck, even the dirty old plant he works at is made to be beautiful. I don't really have any complaints about this movie.[/size][/font]
Chris Weseloh
½
[b]I really have no good excuse for my posting laziness except that RT is so darn slooooowwww. Argh, I can't take it. It takes about 12 years for one page to load! Anyway, I had to at least share 2 movies that I've seen recently that I have loved. [/b] [img]http://www.cineaste.com/images/0000/0273/Olmi4.jpg[/img] * So apparently if you search for pictures of this movie on Google image search page 5, there awaits a link to my review of Adventureland. Really? * [url="http://www.cineaste.com/images/0000/0273/Olmi4.jpg"][/url] [b]I Fidanzati - Deceptively simple and so strikingly beautiful and captivating. Not too much happens at all, but something about it just grabbed me and threw me for a spin. It doesn't try anything crazy, it's just a breath of fresh air. [/b] [b][img]http://img2.timeinc.net/ew/dynamic/imgs/070829/winslet_l.jpg[/img][/b] [b]Romance and Cigarettes - On the complete opposite side of the world from I Fidanzati lies R&C. It's vulgar, sexual, and OH so much fun. I couldn't stop smiling and laughing. The singing is just too great...this has got to be one of the most original, crazy, and fun musicals out there. Kate Winslet is amazing as usual...and she somehow helps brings a human connection to this film, making it even more than just a good time. [/b]
Max D.
"The Fiances" is an innovative and captivating blend of neo-realism and stream of consciousness storytelling that begins with an exquisite long take at a dance hall. It is there that Giovanni(Carlo Cabrini) and Liliana(Anna Canzi) tearfully part company, as he takes a promotion in Sicily. Overall, the movie is concerned with the then present day state of Italy that is split between its past and future modernization, with the central relationship being affected by that, like probably so many others. While many of Giovanni's co-workers may see Sicily as primitive, neither he nor the movie view it as such. To be honest, it is not totally inaccurate to view it as another planet entirely, either. And it is a nice touch that Giovanni arrives at night, so he gets a first look at his new surroundings in the fresh light of morning. My only problem with "The Fiances" is that once it gets into a serious groove, it just suddenly grinds to a halt.
I Fidanzati Quotes
There are no approved quotes yet for this movie.
Discussion Forum
Discuss I Fidanzati on our Movie forum!