I Have Never Forgotten You: The Life And Legacy Of Simon Wiesenthal
(2007)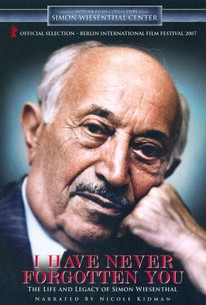 I Have Never Forgotten You: The Life And Legacy Of Simon Wiesenthal Photos
Movie Info
Richard Trank's documentary I Have Never Forgotten You: The Life and Legacy of Simon Wiesenthal joins Into the Arms of Strangers, The Power of Good, and other recent nonfiction films that reflect on WWII-era individuals emotionally invested in the pursuit of justice. This heart-rending film concerns Wiesenthal, a concentration camp survivor released from the Mauthausen Concentration Camp in 1945 on the verge of death from starvation. During his imprisonment, Wiesenthal dreamed of one day re-entering society and establishing himself as an architect, but the atrocities of the camp pointed Wiesenthal's life and career in a much different direction. When Wiesenthal returned to the outside world, with 89 of his family members exterminated by the Holocaust, he vowed to track down and bring to justice as many of the perpetrators of the Nazi atrocity as he could find - and spent years at this task, via a running list of the camp torturers, that he had secretly kept as a detainee. In the early years, with much of the world still ignorant of the extent of the Holocaust, Wiesenthal's was virtually a one-man operation, but in time, he joined forces with the American War Crimes Unit and U.S. Army War Crimes Committee to see the task through to fruition. All told, Wiesenthal helped incriminate an astonishing 1,100 individuals, including the leaders of the Sobibor and Treblinka camps, Adolf Eichmann and Josef Mengele - and his overarching goal, astonishingly, was not cold blooded revenge but a simple love of humanity - the need to free future generations from the dark shadow of the Nazi threat. To create this film in Wiesenthal's memory, Trank and his crew travel to multiple continents, and film exclusive interviews with those whose lives were touched by Wiesenthal, as well as Wiesenthal's descendants; they intercut this interview footage with rare archival footage of Wiesenthal. Academy Award-winning actress Nicole Kidman narrates.
Critic Reviews for I Have Never Forgotten You: The Life And Legacy Of Simon Wiesenthal
Audience Reviews for I Have Never Forgotten You: The Life And Legacy Of Simon Wiesenthal
½
[font=Century Gothic]"I Have Never Forgotten You" is an enthralling documentary about Simon Wiesenthal, war crimes investigator, that by relying on mostly interviews with him before his death in 2005, allows him to tell his story in his own words.(There are also interviews with friends and family plus Ben Kingsley(who portrayed Wiesenthal in a made for TV movie) and Frederick Forsyth(who based a character on him in the novel of "The Odessa File."). All of which is supplemented by archival footage.) [/font] [font=Century Gothic][/font] [font=Century Gothic]While "I Have Never Forgotten You" demystifies Wiesenthal, it also goes to great lengths to speak of his personal courage in seeking justice not vengeance for the victims of the Holocaust in the years after World War II when hunting war criminals was not a high priority for governments who were preoccupied with the Cold War.(Nearly all of Wiesenthal's extensive family had died in concentation camps. He had survived several until ending up at Mauthausen which was liberated by American troops in May 1945.) Not making his task any easier was being based in Austria, a country with a long history of anti-Semitism that just wanted to put the war behind it. But Wiesenthal wanted people to remember and for just cause, to make sure that this would never happen again.(He would later be involved in other genocide investigations.) Not until the 1960's did he gets his first break when he aided in the capture of Adolf Eichmann. The renown gained from that success allowed him free access to the media and power brokers which he used wisely. [/font]
I Have Never Forgotten You: The Life And Legacy Of Simon Wiesenthal Quotes
There are no approved quotes yet for this movie.