I Know What You Did Last Summer
(1997)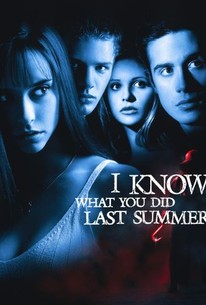 I Know What You Did Last Summer Photos
Movie Info
Kevin Williamson scripted this thriller, an adaptation of Lois Duncan's novel about four teens involved in a hit-and-run incident. High school senior Julie is driving with friends when their car hits a fisherman. Assuming he's dead, they throw him in the water. Later they panic after an anonymous note arrives. It simply says, "I know what you did last summer." (In Duncan's book, the teens hit a small boy on a bicycle instead of a fisherman.)
People Who Like this movie also like
News & Interviews for I Know What You Did Last Summer
Critic Reviews for I Know What You Did Last Summer
Audience Reviews for I Know What You Did Last Summer
Yawn. So there's a group of teenagers, they kill someone, that someone comes back ... are you bored yet? Yeah me to. The classic mix of screaming beauties, testosterone riddled jocks and slightly outcast plain people running around convincing themselves that anything they do for the 90 minutes this movie lasts matters in the slightest to anyone. One of my least favorite movies ever, and certainly not what one would deem "horror".
Unknown Hobo
Super Reviewer
It wasn't that good.....but it wasn't bad eighter
Martin Sahlin
Super Reviewer
1996 onwards saw the great Teen horror boom made famous by Wes Craven's Scream. A year later, they decided to create this mess and basically using the template of Scream as guide on creating a new trend of hip and cool horror films. Well these "horror" films fail to capture the essence of old school horror. Scream is an exception because it had so many homage's and clichés to the genre that it was fun to watch. But this? This is pure trash. Semi decent idea for a story ruined by a poor cast, acting and directing. I Know What You Did Last Summer is a poor excuse for a horror film, and I've never seen anything as bad as this. Yeah, ok maybe Urban Legends and its equally dreadful sequel. I Know What You Did Last Summer is a poorly executed horror film that should be avoided by every horror fan. This film is just a poor attempt at cashing in on the success of Scream, at least Scream was fun, but this film is plainly bad. The actors here are forgettable and they pathetic in their attempt at "acting". This was one of the worst years for so called "horror" films. This is a stupid piece of garbage that the only reason it was marketed to teens is because they would think it would be cool. Well, these films haven't stood the test of time like the horror gems of the past.
I Know What You Did Last Summer Quotes
| | |
| --- | --- |
| Barry Cox: | (still screaming) We don't have time for your shit, you understand? |
| Barry Cox: | We don't have time for your shit, you understand? |
| | |
| --- | --- |
| Barry Cox: | Nobody drives my car but me, you got that shit smear? |
| | |
| --- | --- |
| Julie James: | I hate this, I really hate this. Your gonna go and your gonna fall for some head-shaven, black-wearin, tattoo-covered, body-piercing philosophy student." |
| Julie James: | I hate this, I really hate this. Your gonna go and your gonna fall for some head-shaven, black-wearin, tattoo-covered, body-piercing philosophy student. |
| Ray Bronson: | That sounds attractive. |
| | |
| --- | --- |
| Ray Bronson: | I never knew her breasts were so... ample. |