I Like Killing Flies
(2004)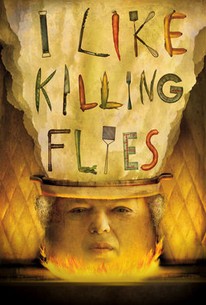 I Like Killing Flies Photos
Movie Info
With more than 900 items on the menu, all conjured up from scratch in a Rube Goldberg kitchen the size of a walk-in closet, Kenny Shopsin, a self-taught chef in his tiny family-owned New York City restaurant, spends his days feeding his neighbors. And, when there is a lull in the cooking, Kenny steps out from behind his Frankenstein stove and holds court, serving up morsels of wisdom and wit on life, death, sex, politics and even food. But after 32 years in the same sheltered workshop, the lease is lost and the family must now find a new place for Kenny to cook.
News & Interviews for I Like Killing Flies
Critic Reviews for I Like Killing Flies
Audience Reviews for I Like Killing Flies
Documentary time: I Like Killing Flies. If you don't care for a restaurant owner who curses at you, questions why you didn't like his food (by sometimes eating what you did not) or tells you CANNOT seat more than 4 people, and if you try you will get thrown out - FOR LIFE, you might not want to watch the documentary: I Like Killing Flies. But if you are like me, someone who likes curmudgeons, really good food and a unique atmosphere - then watch the documentary as soon as possible! Now I don't review documentaries like I do the fictional movies so I am not going to give this any rating except to say after watching this one I wanted to book a flight to New York City ASAP!! This is about Kenny Shopsin and family and their New York eatery. It has been there for years and by the looks of it not cleaned a lot over those years. But I didn't mind that. It was the philosophy of Kenny Shopsin, cook and owner, that had me totally fascinated. He has his own unique way of how he sees life, how a restaurant should be run and if you don't agree him then you can GO F#%* YOURSELF! Really, that is how he talks to his customers. I had a huge smile on my face the entire time and after watching this film you will probably see what I saw: A man dedicated to the best meal he can cook for you. Nothing else matters! Now you are thinking how can he get away with being so rude to customers? Well, one reason: THE FOOD! I will admit I have not eaten there and after watching I really, really want to (and I will abide by all his rules - trust me) but we got his cookbook and followed a few of his techniques. He's a genius! Plus, in his crass way he is usually right. No, I wouldn't want to be yelled at by him but I really want to go and see how great this food really is in real life. I thoroughly enjoyed his philosophies throughout the documentary. It really made me think. But there were a few in his cookbook which we bought right after seeing the film: Eat Me: The Food Philosophy of Kenny Shopsin - that had me howling with laughter. There is one in particular that I so enjoyed: On Not Allowing Special Requests. Here is a segment from his cookbook: "Some people tell me that they're deathly allergic to something and that I have to make sure it's not in their food. I kick them out. I don't want to be responsible for anyone's life-or-death situation. I tell them they should go eat at a hospital." You also have to see his menu - there is a copy of it in the cookbook and they show it in the documentary. It is truly an amazing menu. Trust me!
Tired of Previews
Super Reviewer
Interesting doc on eccentric cook in NY who lives by his own wacky rules and morals. His menu is strangely appealing.
I Like Killing Flies Quotes
There are no approved quotes yet for this movie.