I Love You...Don't Touch Me!
(1997)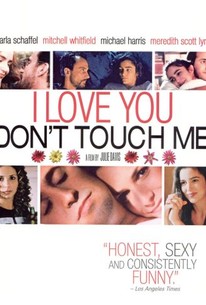 I Love You...Don't Touch Me! Photos
Movie Info
In this independent comedy about the pitfalls of romance in the 1990s, Katie (Marla Schaffel) is a 25-year-old aspiring songwriter living in Los Angeles. Katie is also a virgin; she's been saving herself for the perfect man, but with the passage of time, she's becoming more firmly convinced that he doesn't actually exist. Katie frequently commiserates about the sad state of her love life with her friend Janet (Meredith Scott Lynn), who left her virginity behind a long time ago in the pursuit of a good orgasm but isn't having any more luck in landing her dream man. Katie is good friends with Ben (Mitchell Whitfield), a sweet but nebbishy guy who is crazy about Katie and wants to move their relationship from the platonic to the romantic. Katie, however, doesn't think he's the right man, and she prefers to keep him at arms length; she's shocked (but probably shouldn't be) when Ben ends up sleeping with Janet. When Katie meets Richard Webber (Michael Harris), a successful British songwriter, she thinks that she may have finally found the handsome prince she's been waiting for, but she soon discovers that he's merely a charming frog with a lot of empty promises. Julie Davis, who wrote, produced, directed, and edited I Love You . . . Don't Touch Me!, also appears in a supporting role as Lisa.
Critic Reviews for I Love You...Don't Touch Me!
Audience Reviews for I Love You...Don't Touch Me!
This was big Sundance hit. Great performances, hilarious dialogue, and some really awesome original songs, has the feel of a female Woody Allen movie. RECOMMEND HIGHLY
Sandra Morse
½
[size=5][b]Two for the Road[/b][/size] Directed by: Stanley Doonan [img]http://www.britposters.com/images/two%20for%20the%20road%20320x240.jpg[/img] This is a good movie in so many ways, I can't quite understand why I didn't like it more. It's got a great cast, a good director, neat location, cool editing, and a classic story told in the admittedly somewhat dated language of the late 60's. Somehow, while I enjoyed it, it never really got under my skin. The story is about a couple, and it's told in a series of 4 (I think, got a little confusing) road trips they take over the course of their relationship, intercut with each other. It starts when Albert Finney is a young bachlor who meets Audry Hepburn by accident and ends up on a road trip with her, eventually leading to marrage. There's another when they are married, another when she's pregnant, and another after they have a kid and are fighting and on the edge of divorce. There might be another one, they are intercut in such a way that it gets kind of confusing figuring out exactly which road trip they are on. Anyhow, my only major criticism is that it's very 60's, and it's very the establishment of the 60's trying to relate to the conterculture, and they don't really get it. Beyond that, it's really good. So why didn't it connect to me more? I'm not sure. I guess it's because of that criticism. It felt a little too phoney even though it did so much right. Maybe I wouldn't feel that way on another viewing. Either way, still a worthwhile film. [size=4][i]7.5[/i][/size] [size=5][b]I Love You, Don't Touch Me![/b][/size] Directed by: Julie Davis [img]http://ecx.images-amazon.com/images/I/5122862DD6L._AA240_.jpg[/img] : sigh : this is one of those oh-so-ernest movies made by a first time filmmaker that isn't awful, but isn't nearly as good as it hopes to be, and comes off as annoying occasionally because of it's ernestness. Anyhow, it's a boy-loves-girl-but-she-thinks-of-him-as-best-friend story, but told from a female perspective this time. Instead, the protagonist, who's a virgin, ends up sleeping with some random sleazy artist who's 20 something years older. Of course, the guy takes her back after sleeping with one of her friends anyway. It's got some funny moments, and I thought the girls were unconventionally pretty, but ultimately it tries too hard and produces too little. [size=4][i]5.0[/i][/size]
Cliff Smith
I Love You...Don't Touch Me! Quotes
There are no approved quotes yet for this movie.
Discussion Forum
Discuss I Love You...Don't Touch Me! on our Movie forum!