I Married a Witch
(1942)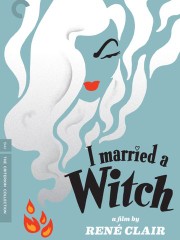 I Married a Witch Trailers & Photos
Movie Info
As she burns at the stake, a 17th century witch, Jennifer (Veronica Lake), places a curse on her accuser (Fredric March), so that from this day forward, all of his descendants (each played by him) will be unhappy in marriage. After several hilarious through-the-years examples (the Civil War-era Fredric March runs off to battle rather than endure his wife's nagging), we are brought up to 1942. Wallace Wooley (March) is a gubernatorial candidate, preparing to wed snooty socialite Estelle Masterson (Susan Hayward) -- the well-to-do daughter of a publisher who is backing him. A bolt of lightning strikes the tree where Jennifer had been executed three centuries earlier, thereby freeing the spirits of Jennifer and her warlock father, Daniel (Cecil Kellaway). Wallace meets Jennifer when she materializes in a burning building, obliging him to save her life. The revivified sorceress does everything in her power to induce Wallace to fall in love with her -- even destroying the ceremony in which the wedding is supposed to take place. The attempts succeed, and the two marry, but on their wedding night, Wallace refuses to believe Jennifer's claims that she is a witch. Frustrated, she attempts to convince him by doctoring the gubernatorial election -- in his favor. Based on the Thorne Smith novel The Passionate Witch, the rollicking I Married a Witch can be considered the forerunner of the TV series Bewitched, but only on a surface level. The film had been scheduled to be directed by Preston Sturges and to be released by its producing studio, Paramount; the end result was helmed by René Clair (his second Hollywood film), and was distributed by United Artists.
more
Cast
News & Interviews for I Married a Witch
Critic Reviews for I Married a Witch
Audience Reviews for I Married a Witch
½
Delightful romantic fantasy, Veronica is truly bewitching, March is unusually lively, their chemistry is wonderful, you could never tell they absolutely loathed each other behind the scenes. Susan is a superlative bitch and all the other supporting characters are cast to perfection. All and all a marvelous experience.
½
This featherweight comedy stars Veronica Lake as a witch, burned at the stake in Ye Olden times who comes back in the 40s to beguile the ancestor of the man responsible. Essentially this is a feature length episode of Bewitched. The jokes aren't really all that funny, and the script is weaker than curry house lager. What this film does have going for it is Ms Lake herself, who is the stuff restraining orders are made of. She is absolutely adorable throughout, and although she is the only reason to watch this film, on this occasion one reason is enough.
Discussion Forum
Discuss I Married a Witch on our Movie forum!
News & Features