I Remember Me
(2001)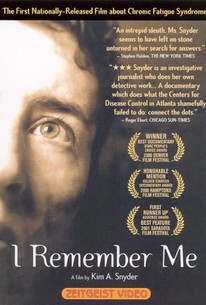 Movie Info
Chronic Fatigue Syndrome is a much-misunderstood illness that many believe is a psychological condition rather than a physical malady. Filmmaker Kim Snyder, however, begs to differ; as a longtime sufferer of Chronic Fatigue Syndrome, she has firmly held opinions on the disease and its impact, and I Remember Me is a documentary that examines CFS, its effects, and its causes. Snyder examines some of the more unusual aspects of the disease (such as the fact it seems to crop up most often in specific geographic areas), and interviews a number of people living with CFS, some famous (director Blake Edwards and Olympic soccer star Michelle Akers), and some ordinary (such as a high school student whose battle with CFS forced him to attend his high school graduation in a wheelchair).
Critic Reviews for I Remember Me
Audience Reviews for I Remember Me
½
Considering that most of the information publicly available about CFIDS (chronic fatigue immune dysfunction syndrome) is negatively biased against sufferers at best and openly mocking at worst, it's a refreshing change to watch a documentary that makes an open attempt to get to the bottom of the disease. I've seen this movie twice now, and I have to admit that after the first time I saw it I felt kind of despondent. And yet, it definitely helped me to understand that the things that I've gone through, living with chronic illnesses that are considered controversial in the public and conventional medical spheres, are actually typical, and that there are many others out there going through similar struggles. One of the things this movie does is to directly address many myths surrounding CFIDS in an attempt to systematically break them down and refute them. Unfortunately, because of the lack of interest and straight-up misappropriation of funds that's happening in relation to the study of CFIDS, there's not a whole lot out there to help us understand our condition.* Kim A. Snyder, who produced, directed, wrote and narrated this movie, most likely created it for the same reasons that led me to watch and show it to my friends. She wanted to understand more about her condition and the factors that surround it. The content mostly consists of interviews with people facing CFIDS, their families, health care providers and researchers, with a few CFIDS detractors thrown in just to illustrate what complete and total jackasses they are. I dare anyone tempted to make a joke about having chronic fatigue to watch this movie. I seriously doubt you'll be amused when the credits roll. * Osler's Web: Inside the Labyrinth of the Chronic Fatigue Syndrome Epidemic by Hillary Johnson. Penguin Books, 1997
billie rain
I Remember Me Quotes
There are no approved quotes yet for this movie.
Discussion Forum
Discuss I Remember Me on our Movie forum!