I Served the King of England
(2008)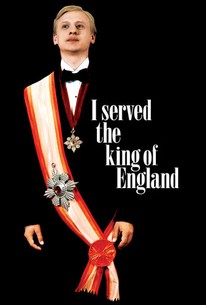 TOMATOMETER
AUDIENCE SCORE
Critic Consensus: With charm and an eye for life's bittersweet moments, Czech New Wave master Jiri Menzel paints a picaresque story with whimsy and intellect.
I Served the King of England Photos
Movie Info
Despite the 1997 death of longtime friend and Closely Watched Trains collaborator Bohumil Hrabal, 1960s-era Czech New Wave filmmaker Jirí Menzel enters into a postmortem collaboration with the famed author in this pitch-black comedy detailing the shrewd rise of an ambitious waiter. All diminutive manservant Jan Dite (Ivan Barnev) ever wanted was to be filthy rich and to preside over his very own hotel. As a young man coming of age in the 1930s, Jan was preoccupied by beautiful women and awestricken by the fact that anyone, be they rich or poor, would bend to their knees to pick up a coin. With World War II fast approaching and the Germans steadily taking occupation of Czech territory, the opportunistic servant begins his rapid ascent up the hospitality ladder by working for a number of high-profile figures. Though Jan was never a man to settle down with just one woman, his growing attraction to Aryan beauty Liza (Julia Jentsch) soon finds the aspiring hotelier proposing marriage. Of course, a blueblood Teuton like Liza could never wed a man unable to provide proof of his German heritage, but that doesn't stop Jan from doing his best to please her in the bedroom. Later, when Liza is killed retrieving a box of valuable stamps acquired during her stint at the Russian front, Jan uses the valuable collector's items to purchase the very hotel in which he used to work. Unfortunately for Jan, good luck is always followed by bad news, and it's not long before his life's ambition comes crumbling down all around him. ~ Jason Buchanan, Rovi
Critic Reviews for I Served the King of England
Audience Reviews for I Served the King of England
½
An short old man wryly recalls his days of short wily youth when he dreamed of making the big time come hell or high water, only there was that damn war standing in his way ... World War ll, dammit. Set mainly in Prague, the Paris of Eastern Europe, this comic tale of accidentally acquiring wisdom while actually trying to acquire wealth doesn't take itself too seriously and there's plenty of beauty to while that wisdom acquisition time away. Loved it, but its not for the kiddies though.
Kevin M. Williams
Super Reviewer
"I Served the King of England" starts sometime in the 1960's with Jan Dite(Oldrich Kaiser), "a small man from a small town," getting amnesty from his 15 year jail sentence, after serving 14 years and 9 months. To add to his predicament, he is forced to move to the frontier where he encounters Marcela(Zuzana Fialova) which rekindles memories of himself as a young man(Ivan Barnev) who began his career in food service as a hot dog vendor at the train station in Prague before moving on to become a waiter at a bar. It is there that Jaruska(Petra Hrebickova), the new woman at the local bordello, walks in soaking wet one day. "I Served the King of England" is a darkly comic, gorgeously rendered, and sensual movie that starts Jan's story innocently enough with a silent movie homage. In fact, he does remind me of a Chaplinesque hero who suffers under the weight of the world while trying to make it a better place through a smile. However, Jan has more important things on his mind than just service, dreaming of becoming a millionaire and opening his own elite hotel. That along with his love of women(I had not noticed they are all taller than him until it is pointed out) drives him in his life, as he also has a naughty habit of dropping coins to tempt the rich.(This reminds me of Abbie Hoffman and Co. dropping money at the New York Stock Exchange. This event says everything you need to know about capitalism.) At the same time, Jan loses track of important events happening around him which leads to both his physical and moral downfall.
I don't know much about Jiri Menzel, but I know he's a reknown Czech new wave filmmaker (correct me if I'm wrong). Unbiased as I am, here's my review of I Served the King of England... Okay... what happens here is that a Czech waiter in pre-occupied Prague really, really wants to be a millionaire. And he will go as far as it takes and rise above any and all circumstances in order to get what he wants. He will become a Nazi to marry a cute German teacher, he will silently witness all sorts of twisted human dynamics for a decent tip, he will accept stamps stolen from deported Jews to change them for money... the man is a total innocent, absolutely ignorant of the perversity of his actions or omissions, only chasing after his dream. And he is content even when his beloved fortune is confiscated and he is sent to jail because he will share cells with millionaires. And he always did want to be with millionaires. The remarkable thing about I Served... is how it creates this rich, sensual Universe in which the main character moves, where he struggles to climb, that he inhabits pleasurably. Naive as he is in the face of reality, he enjoys and contemplates women, food, and money as the most natural things in the world. Therefore, the film is overflowing with vitality and color, textures, suggested tastes and scents. Scenes of banquets and orgies are shown in a matter-of-fact way and accompanied with beautiful music. Styllistically, the film reminded me of Chaplin and Rene Clair. There's the quick paced piano, the complicated falling and stumbling, the slapstick humor, and the undercurrents of wit and satire. The performances are very limited since voice-over dominates a great portion of the film, but every actor undoubtedly inhabits their character perfectly. There's hardly a weak performance. I don't quite know what to make of this movie. It has no big lessons to teach or much to reflect upon except the uselessness of money and the importance of a full life, and even that can go unseen behind all of its visual charm. I Served... is original, cheerful, and provocative. It's knowingly relativist and allegoric. Above all, it's fun, and light-hearted fun with complex backdrops always gets on my good side.
I Served the King of England Quotes
| | |
| --- | --- |
| Jan Díte Old: | A person becomes most human, ften against his own will.. when he begins to founder, when he is derailed or deprived of order. |
| | |
| --- | --- |
| Jan Díte Old: | I look at myself and am sickened by what I see. |
| | |
| --- | --- |
| Marcela: | We're here to find trees with melodies in them. Music. |
| | |
| --- | --- |
| Walden: | You have to know how to throw away your change so that it comes back to you as banknotes. |