I Spit on Your Corpse, I Piss on Your Grave
(2001)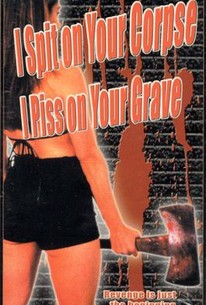 AUDIENCE SCORE
Critic Consensus: No consensus yet.
Movie Info
Cult filmmaker Eric Stanze (Ice From the Sun) took a break from his more personal independent films to oversee the creation of the Sub Rosa Extreme video line for producer Ron Bonk, directing this flagship release himself. Like most of the films in the series, it is an extrapolation of a classic horror film, in this case I Spit on Your Grave, shot on a very low budget and packed with far more carnage and sleaze than the original. Emily Haack from the director's Scrapbook stars as Sandy, the daughter of the protagonist in the original film. Sandy's boyfriend, Kevin (Stanze acting under the name "Scot Spookytooth") breaks out of prison and kidnaps her, along with three men whom he blames for his incarceration. They're chained in the basement, and think they will be freed after the feisty Sandy guts Kevin with a crowbar, but she has her own bone to pick with the three prisoners, each of whom had sexually harassed her in the past. One man is shot in the crotch, while another is burned below the waist with a cigarette before being forced to defecate, having his face shoved into his own waste like a dog, and then being brutally chopped to death with an axe. The worst horrors are in store for the third man, however, as Sandy first teases him by explicitly pleasuring herself with the broomstick as he watches, then bloodily rapes him with it before stabbing him to death. D.J. Vivano and Jeff Atwater co-star. Other Sub Rosa Extreme films include Insaniac, The Christmas Season Massacre, and Last House on Hell Street, each paying homage to a separate cult horror film.
Rating:
NR
Genre:
Directed By:
Written By:
On DVD:
Runtime:
Critic Reviews for I Spit on Your Corpse, I Piss on Your Grave
All Critics (3) | Fresh (0) | Rotten (3) | DVD (3)
A sleazy and purely exploitative attempt to make a few bucks off of a 70's cult classic which, while also sleazy and exploitative, at least had some redeeming qualities.
Audience Reviews for I Spit on Your Corpse, I Piss on Your Grave
[font=Times][color=#000000]I really do try to take it easy on independently made films. Some of my favorite horror movies were made by smaller, independent studios. Some of the worst horror movies I've ever seen have, like wise, been made by independents as well. I'm afraid this movie falls under that second category.[/color][/font] [font=Times][color=#000000] The music and the effects are fair, nothing to be amazed about, but nothing really bad either. The acting isn't really very good. Smaller studios often mean smaller pay offers which can often (but not always) mean sub-par acting talent. Most of the actors here really don't do that well. That's not really why I didn't like this film though.[/color][/font] [font=Times][color=#000000] My real problem with this movie is the basic plot and the pacing of it as edited and put on film. The plot has huge logic holes in it. There really is no reason for Sandy to full on tweak out and go on a rampage like she does. They try hard to write in excuses, but none of them really are good enough to realistically justify her sudden total insane sadism. The writer also tries to tie this movie and the Sandy character in with the original 1970s exploitation/rape movie [i]I Spit on Your Grave.[/i] They of course never actually claim this is a sequel, I'm sure they'd get sued if they did, but a few lines of dialogue make it obvious that they are trying to connect the two stories and the main characters. It still doesn't make what Sandy does logical at all.[/color][/font] [font=Times][color=#000000] The next problem was the editing and how the editing made the pace of the film drag. I don't know if the director went to the Bert I. Gordon school of movie filler or what but this film was ridiculously padded. The movie is an hour and thirteen minutes long and easily forty to forty five minutes of it are shots of trees, statuary in the cemetery, pipes in the ceiling of the basement, and the main character, Sandy, sitting on the toilet. If you took all those scenes out of the film you'd have a 25 minute or so horror short with a fairly weak plot.[/color][/font]
Todd S
I Spit on Your Corpse, I Piss on Your Grave Quotes
There are no approved quotes yet for this movie.
Discussion Forum
Discuss I Spit on Your Corpse, I Piss on Your Grave on our Movie forum!