I, You, He, She (Je, Tu, Il, Elle)
(1975)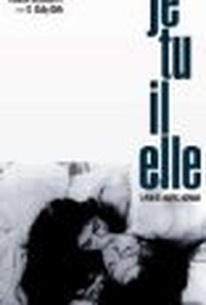 I, You, He, She (Je, Tu, Il, Elle) Photos
Movie Info
Je Tu Il Elle was the first feature-length effort from avant-garde filmmaker Chantal Akerman. The story, simple in extreme, concerns a high-strung woman taking a lengthy journey through France. Her life up until now has been one huge question mark. By dwelling long and hard on every experience, she hopes to find answers during her cross-country odyssey. Chantal Akerman herself plays a major role in Je Tu Il Elle, which also features Niels Arestrup and Claire Wauthion. ~ Hal Erickson, Rovi
Cast
Critic Reviews for I, You, He, She (Je, Tu, Il, Elle)
Audience Reviews for I, You, He, She (Je, Tu, Il, Elle)
½
The 225-minute "Jeanne Dielman, 23 Quai du Commerce, 1080 Bruxelles" is a legendary endurance test for film buffs, but "Je Tu Il Elle" is also quite a trial -- even though it lasts about a third as long. "Dielman" director Chantal Akerman's first feature has just three actors in the cast, including herself (her character is named Julie, so the story is not directly autobiographical). A single camera follows Julie in gritty black and white through a spell of creative and emotional frustration. At first, she idles around her apartment, obsessing over an epic letter while crudely eating powdered sugar out of a bag. This lengthy segment spans four weeks and is extremely hard to watch. The "action" becomes more bearable once she decides to hit the road. She catches a ride with a truck driver (the destination does not seem relevant), and they become more intimate along their journey. He offers a long monologue about his wife and children while Julie's hand stimulates him. Later, she ends up at the door of an ambivalent woman, who's presumably the target of the first section's troubled letter. If you've forced yourself to stick around this long, you're rewarded with a prolonged, erotic lesbian scene. Akerman's bravery about displaying her own flawed body could have influenced "Girls" creator Lena Dunham.
Eric Broome
Super Reviewer
In "Je, Tu, Il, Elle," a young woman(Chantal Akerman, who also co-wrote and directed) spends her days in her tiny apartment rearranging the furniture, subsisting on a diet of sugar. She writes a letter and then reads it over and over. Time passes and eventually it is 28 days since she has been outside. For all we know, there could have been a zombie apocalypse in the meantime and this morose person could conceivably be the last human being left alive which is really depressing. She gets undressed, either putting on a show for the neighbors or inviting potential zombies to lunch. Eventually, she musters the energy to get dressed and leave, hitchhiking with a trucker(Niels Arestrup). Okay, as pretentious as that sounds, what follows is worse. On the other hand, it does become clear what the woman's story is. In any case, "Je, Tu, Il, Elle" is an object lesson in that just using a stationary camera and pointing it in a random direction is not filmmaking by any means. The director has to capture something of interest to the viewer, or else his mind is going to wander and he is going to be very silly when he has to write the review. Luckily, Akerman's first feature does transcend some of her inexperience as a director, winning the day by the movie's confrontational attitude and sheer nerve.
Je: I am a man who wants to love a woman. Tu: as in the second person who I'm responding to,and yet nothing is quite certain or as it was supposed to be... Il: domineering,bipolar,strict,even truck-drivers get the blues! Elle: fierce,emotional,witty,the artistic,carnal fulfillment for both sexes. Result: ? Argument: "Being a woman is a terribly difficult task since it consists principally in dealing with men" Joseph Conrad
Dimitris Springer
Super Reviewer
I, You, He, She (Je, Tu, Il, Elle) Quotes
There are no approved quotes yet for this movie.