I, Zombie
(1999)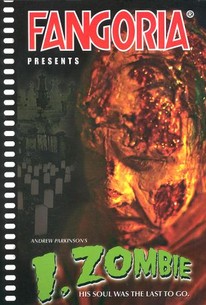 AUDIENCE SCORE
Critic Consensus: No consensus yet.
Movie Info
The first film produced under the auspices of the popular horror magazine Fangoria, I, Zombie stars Gile Aspen, Ellen Softley and Dean Sipling in a grisly tale of a reporter who is attacked by a woman who looks like she should be dead. Soon, he finds his body begins to fall apart and his mind is obsessed with death and the thirst for blood and the Zombie infection begins to take over his body.
Rating:
NR
Genre:
Directed By:
Written By:
In Theaters:
On DVD:
Runtime:
Critic Reviews for I, Zombie
There are no critic reviews yet for I, Zombie. Keep checking Rotten Tomatoes for updates!
Audience Reviews for I, Zombie
½
I, Zombie makes an early stab at a theme that would be quite popular in the most recent slate of zombie films. It's most clear descendants are movies like American Zombie, Zombie Honeymoon, and Zombies Anonymous. All three films follow I, Zombie's lead in thinking about what it would be like to be a conscious zombie. In some ways, this film explores that issue more intimately than do the later films. The film follows Brian, a graduate student who gets bitten by a zombie and finds himself turned into one. He has an uncontrollable hunger for people and is slowly rotting as he hides away from the world. It's a grim tale of desperation and sorrow, with lots of lingering shots focused on Brian's painful life hiding in his flat. A few other thoughts: * While the film contemplates the question of what it would be like to become a zombie quite well, it veers quite far from the recipe necessary for an enjoyable zombie film. There's not much tension as Brian never seems in any sort of danger. A persistant detective (ala Zombie Honeymoon) would have made the story a bit more exciting. * The gloomy desperation and haunted narrative reminds me a lot of An American Werewolf in London, which also considers the spiritual tragedy of becoming a monster. * This movie has one of the more horrifying consequences of rotting I've seen in a zombie film, made much worse by the emotional depth of the scene in which it occurs. * There's not a whole lot of action or excitement in the film. Instead, its matter-of-fact cinematography and shallow narrative arc short circuit most of the horror-pleasure that one finds in these films. In so doing, I could see it being pretty unsatisfying for people looking for more conventional fare. That said, I think it makes a fine companion to those other films I mentioned above. * The makeup effects and dream sequences are impressive and solid. Overall, it's worth seeing, but more recent films do the same work in a more entertaining way.
Brendan Riley
While a good idea in concept, this movie just about fails on every level. You'd think a simple story about the transformation into zombiehood would yield better results. This, for some reason, is more of an art film with way too many scenes of the zombie staring off into the distance while piano music played. Oh well, at least I got the chance to see that zombie's do masturbate..
Whitey DeLuca
Interesting contemporary zombie story, rather brutally graphic, but it is an unusual twist on the often told subject. Very good score, nicely acted and directed. Good pace.
James Higgins
I, Zombie Quotes
There are no approved quotes yet for this movie.