Ice From the Sun
(1999)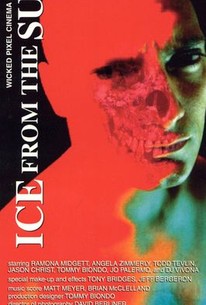 Movie Info
Though once an average wizard's apprentice, the evil sovereign known only as "The Presence" has the distinct quality of having gained the hatred of heaven and hell alike. Cast aside to rule a bizarre alternate dimension filled with unending violence and bloodshed, those unfortunate to live under his command hire Alison, an assassin, to hunt and destroy him. Soon after her mission begins, Alison finds herself haunted by ghastly visions of death, destruction, and mass chaos. Ice From the Sun was filmed in Super-8 millimeter and directed by Eric Stanze. Featured actors include Ramona Midgett, D.J. Vivona, Angela Zimmerly, and Todd Tevlin.
Critic Reviews for Ice From the Sun
All Critics (6) | Top Critics (2) | Fresh (2) | Rotten (4) | DVD (3)
A furiously pointless punk-gore loogie that resets the bar on how wretched an amateur indulgence can be and still garner public screen time merely on the impression of being 'transgressive.'
May 2, 2001

Here and there one can detect the slightest vestiges of creative fancy peeking through the rubble of horrific brutality, gimmicky, and din.
Audience Reviews for Ice From the Sun
I haven't seen this one in a while, but from what I remember I was really very impressed. The low budget shows, but that just makes it all the more amazing. Gory, surreal with only a slight amount of pretentiousness. I knew when I saw this, Stanze was a filmmaker to look out for and except for one stinker, I've consistently liked his output.
Christopher Brown
Super Reviewer
Ice From the Sun Quotes
There are no approved quotes yet for this movie.