The Ice Harvest
(2005)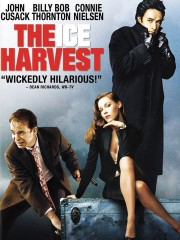 The Ice Harvest Trailers & Photos
Movie Info
In icebound Wichita, Kan., its Christmas Eve, and this year Charlie Arglist just might have something to celebrate. Charlie, an attorney for the sleazy businesses of Wichita, and his unsavory associate, the steely Vic Cavanaugh have just successfully embezzled $2 million from Kansas City boss Bill Guerrard. But the real prize for Charlie is the stunning Renata, who runs the Sweet Cage strip club. Charlie hopes to slip out of town with Renata. But as daylight fades and an ice storm whirls, everyone from Charlie's drinking buddy Pete Van Heuten to the local police begin to wonder just what exactly is in Charlie's Christmas stocking -- and the 12 hours of Christmas Eve are filled with surprises
more
Cast
News & Interviews for The Ice Harvest
Critic Reviews for The Ice Harvest
Audience Reviews for The Ice Harvest
Melvin White
Super Reviewer
Its a rainy Christmas in Wichita, 1979, icy rain and cold, when small time mob lawyer Cusack decides to skim a little moolah from mean ol'boss Quaid's illegal loot. Luckily his friends want to help him out (outta the goodness of their widdle hearts!) before he gets permanently iced but good in this wee bit of a enjoyable comic noirfest surprisingly directed by Harold Ramis.
½
I was expecting something pretty good with this film, but I was disappointed. With a great cast of actors and interesting story, I'm surprised that the filmmakers couldn't have created anything better than what this film turned out to be. This is a pretty bad film, and I was disappointed because the cast and story were promising. However the film just didn't do it for me. As far as a dark comedy is concerned, this one just doesn't have what it takes and it is plainly a bad film that not even with the good cast at hand, they weren't able to save it from failing. This film could have been great, but it isn't. Harold Ramis over the years has made some great comedy classics, but nowadays he's losing his touch. The Ice Harvest is a boring film that you'll lose interest after a while. I thought that the film could have been much better considering the cast and director. However Harold Ramis can't seem to direct something consistent here. In the end, this is a boring film that could have been better. I think that the black humor elements could have been reworked as well, as even by those humor standards, it didn't do anything to make this film stand out. This film could have been good, but it was just a poorly made film with nothing interesting going for it. I was very disappointed in this film, thought it could have been much better than what it turned out to be.
The Ice Harvest Quotes
Pete Van Heuten: Everybody has regrets. Guys our age, what else is there?
Charlie Arglist: It's all a matter of character. Of course, if I had any character, I wouldn't have stolen 2 million dollars from my boss.
Charlie Arglist: People always say that there's no such thing as the perfect crime. But I don't agree with that.
Vic Cavanaugh: Only morons are nice at christmas.
Discussion Forum
Discuss The Ice Harvest on our Movie forum!
News & Features