The Ice Pirates
(1984)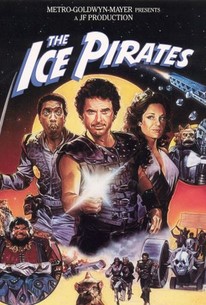 Movie Info
In this undistinguished parody of the sci fi genre, Robert Urich is Jason who leads a band of pirates in redistributing the wealth of the few to the coffers of the needy. He also joins up with Princess Karina Mary Crosby in searching for her father and a possible source of water in the next galaxy. Meant to be a campy romp through the sci fi genre, the film stops short of achieving a goal that should have been effortless.
Critic Reviews for The Ice Pirates
Audience Reviews for The Ice Pirates
Bizarre flick frankly, swings from kids adventure in some places to quite adult material in others. Its a full mix of 'Mad Max' 'Star Wars' 'Krull' and 'Star Trek' with 'Pirates of the Caribbean' character types at the helm. Completely hokey to the max with idea rip off's left right and centre plus a casual made for TV look. The cast is epic (check an early Ron Perlman) but they are all let down by this weird plot that makes no real sense. Its almost fun but a little too off the wall too I'm afraid, it tries to fit in way too much into one film and the effects are pretty dodgy as well, dodgy now and dodgy back then. I liked it as a kid but now it just seems rather stupid and cheesy, and shouldn't it be called 'The Water Pirates'?
Phil Hubbs
Super Reviewer
This movie has some charm, but for the most part it's very uncertain of itself. Is it a parody or spoof? Is it a serious sci-fi movie? Should the jokes be adult or kiddie? Well, it's got a little of everything, sci-fi, comedy, action, adventure, romance, and a strange ending. I couldn't make up my mind whether I liked it or not, so I'll just say it was okay. There are some really funny scenes, though, and that's what I liked the most about it.
An utterly terrible, bumbling mess of camp and sci-fi. And, for that reason, thoroughly enjoyable for its ridiculousness. Buxom space amazons riding unicorns? Space herpes? Conveyor-belt assembly-line castration devices? Bumbling chippendale battle robots? An overlooked B-Film that delivers an endless amount of confusing, ridiculous throw-away plot elements. While it won't earn it high scores, to its credit, it never becomes tedious or boring. A hasty, tongue-in-cheek madcap adventure that fails to impress, but succeeds in keeping your attention.
Daniel Hetteix
Super Reviewer
The Ice Pirates Quotes
There are no approved quotes yet for this movie.
Discussion Forum
Discuss The Ice Pirates on our Movie forum!