Iceberg Slim: Portrait Of A Pimp
(2013)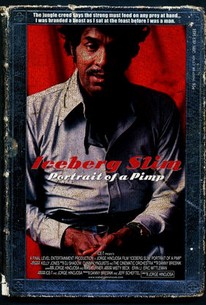 Iceberg Slim: Portrait Of A Pimp Videos
Iceberg Slim: Portrait Of A Pimp Photos
Movie Info
Iceberg Slim: Portrait of a Pimp Examines the tumultuous life of legendary Chicago pimp Iceberg Slim (1918-1992) and how he reinvented himself from pimp to author of 7 groundbreaking books. These books were the birth of Street Lit and explored the world of the ghetto in gritty and poetic detail and have made him a cultural icon. Interviews with Iceberg Slim, Chris Rock, Henry Rollins, Ice-T, Snoop Dogg, and Quincy Jones. (c) Official Site
Rating:
R (for sexual content, some violent images and language)
Genre:
,
Directed By:
In Theaters:
On DVD:
Runtime:
Studio:
Critic Reviews for Iceberg Slim: Portrait Of A Pimp
Audience Reviews for Iceberg Slim: Portrait Of A Pimp
Pimpin' ain't easy, and infamous pimp Iceberg Slim learned it the hard way but became a well-respected author later in life....interesting even if the subject matter doesn't draw you in.
Phantasm GhostWriter
Excellent documentary that shows you exactly how eloquent Iceberg was and details how greater career as a novelist. His literary career is given its just due and not just his pimpin
Dankwa Brooks
Engaging and colorful, Iceberg Slim, the man, gets captured beautifully in this well-researched and entertaining documentary. A life (and a world) unknown to many, yet his impact is still felt today. Great interviews with Chris Rock, Quincy Jones and co-producer, Ice-T, are interspersed with family and friends, co-conspirators and bystanders. Plus, we get a taste of Slim's books amidst a backdrop of key historical events. On the surface, this may be seen simply as an African-American survival story, but I couldn't help feeling this went way beyond race. Rising from poverty, abuse, bad luck and heartbreak, Robert Beck (aka 'Iceberg Slim'), continually bounces back with a gleam in his eye. Beck's luck continues in the after-life: his books are more popular than ever, and he is blessed with filmmakers who have the passion and vision to reveal his unique genius.
B. Wilder
Discussion Forum
Discuss Iceberg Slim: Portrait Of A Pimp on our Movie forum!