Iced
(1988)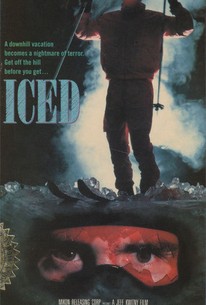 AUDIENCE SCORE
Critic Consensus: No consensus yet.
Movie Info
This plodding, amateurish horror film is basically a snow-capped variation on the standard stalk-and-slash killer formula. Six vacationers check into a posh ski resort where they are systematically slain, apparently in retribution for the accidental death of one of their friends years before. Despite a few inventive death scenes (by icicle, ski pole, snowplow, etc.), slasher-movie buffs looking for genre staples of bare nubile flesh, gushing gore and a high body count will be left out in the cold, as this is yet another late-80s exploitation thriller that contains no thrills (unless one counts the frequent ski footage) and hardly bothers to exploit anything.
Critic Reviews for Iced
There are no critic reviews yet for Iced. Keep checking Rotten Tomatoes for updates!
Audience Reviews for Iced
A thoroughly lame and boring '80s slashers, Iced provides little to entertain--the death scenes are even off-camera at times, thus negating the whole point of such films.
Al Miller
I think I'm finally getting burned out on slasher films. I'm sure it's just a phase I'm going through and that sooner or later, I'll be gleefully popping in a tape of some obscure holiday-themed movie where teens have sex and die in a miriad of illogical ways, but I may have to take some time off for a while. Get some cinematic fiber back into my diet, as it were. It was [i]Iced [/i]that finally broke me. I'd always been curious about it, if for no other reason than its' place in history as the movie where you get to see Lisa Loring, the original Wednesday Addams, naked as a newborn babe in a hottob with huge hair. I don't know why the hell I'd care about this--just my morbid fascination with child stars sinking to doing nudity in slasher films, I guess. (I've also always wanted to see the porn film starring Scotty Schwartz, the kid from [i]The Toy[/i], but always got scared by the box, in which he looks exactly the same as he did when he was eight, only puffier. There's something wrong with me.) In [i]Iced[/i], Loring is one of an uneven baker's half-dozen of folks that come up to a ski lodge for a sales pitch and eventually find themselves getting killed off one by one. Seems a friend of the group had killed himself on the slopes four years ago and now he's in full ski garb, hunting them down with a variety of winter-themed objects--snow plow, ski, icicle--which makes sense only if you believe a group of friends would be glad to reunite under the same circumstances that caused the death of one of their own. I guess[i] Iced[/i] is slightly different from the standard slasher film for having the snow-heavy setting, but director Jeff (Beyond the Door III) Kwitny never really bothers to get outside the cabin itself. He also never really bothers setting up any tension, and fumbles the climax so badly you feel that the first 80 minutes of the film is even more of a waste than it felt like. Instead of tension, we get talk, and lots of it. Writer Joseph Alan Johnson, who also plays the real estate agent, seems to want to set up a [i]Big Chill[/i] kind of atmosphere, with the characters talking endlessly about their feelings, lives and relationships before getting a knife to the chest. If any of this were the least bit convincing or interesting, it might have worked, but it's not, so the result is that over an hour of screen time passes before the second murder. (The first murder is something of a "gimme" in slasher movies, usually involving someone who's killed before they meet the rest of the group.) Now, I can certainly enjoy a dumb slasher film, but the bad aspects of this film are more annoying and dull than goofy and enjoyable. The killer's identity makes little sense (he manages to be in two places at once at one point), the death sequences are ineptly staged, the score barely matches the action on screen, and the characters, while overdeveloped, aren't particularly memorable, with the exception of Carl (Ron Kologie), who has hair that deserves an apology. And Lisa Loring herself? Well, she comes off like Winona Ryder playing Joan Collins as the film's slut, which could have been enjoyably over-the-top had the script let her go a little bit nuttier. Instead, she regrets what she does, broods a little, and ends up electrocuted in a hot tub after disrobing for her much-sought-after full frontal nude scene. As an exploitation flick,[i] Iced [/i]isn't much either. There's nudity from both genders (always a good thing in my book), but the violence is unconvincing and most of the death scenes occur off-screen. What's the point of having a film where someone is stabbed with a giant icicle if you're not going to show it? There's also a supernatural twist that doesn't make any sense with the final twist and an epilogue that ranks with one of the silliest I've ever seen. Here, I'll spoil it for you so you don't have to waste 88 minutes of your life: It's five years after the massacre. The two married survivors go up to a ski resort (again, why would... oh, never mind.) and their young daughter builds a snowman. The mom puts a piece of coal on the snowman for an eye, and [i]the eye begins to drop blood! [/i] Mom backs away.... AND THE SKI-SUIT CLAD KILLER BURSTS OUT FROM THE SNOWMAN! Freeze-frame... credits roll. There. Now, unless you've got some sort of weird pent-up sexul frustration about having never seen Wednesday Addams naked, you can avoid [i]Iced[/i] completely. I'm gonna go watch something good, like a women's prison movie with Tanya Roberts.
Paul Freitag
Iced Quotes
There are no approved quotes yet for this movie.
Discussion Forum
Discuss Iced on our Movie forum!