Idiots and Angels
(2010)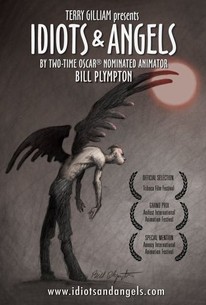 Movie Info
Animator Bill Plympton offers a moral fable with his own surreal touch in this dark comedy. Tough guy Angel wakes up one morning to discover his body has begun to match his name -- a pair of wings has sprouted from his back. Angel doesn't care to have wings and is annoyed by the ridicule they inspire among his drinking buddies, so he cuts them off, only to find they quickly grow back. Even worse, Angel learns the wings have their own moral compass, and while he's a bitter and self-centered man, the wings are forcing him to be benevolent in a way that hardly suits him. Hoping a professional can help, Angel has a surgeon amputate the wings, but when Bart, the bartender at Angel's favorite watering hole, makes trouble for a woman who is a regular at the tavern, the wings return again and the barkeep realizes he can use Angel's talents to his advantage, leading to a war of wills between two corrupt men and one mysterious force for good. Angels And Idiots tells its story without dialogue but does include songs from such artists as Tom Waits, Moby, Pink Martini and Nicole Renaud.
News & Interviews for Idiots and Angels
Critic Reviews for Idiots and Angels
Audience Reviews for Idiots and Angels
½
What a delightfully strange movie, and I do legitimately mean that as a compliment. It's impressive that Bill Plympton animated this movie completely on his own. So kudos to Mr. Plympton for that. The movie is certainly very surreal and very funny but at its heart there's actually a good narrative to the film without it actually using any dialogue. The movie definitely gets stranger and darker near the end, but I think it's definitely adds to the movie rather than detract because you do get to see how Angel getting his wings brings out the worst in some people who are full of greed. That being said, the movie is very good but it is an acquired taste. Not everyone will get into its visual style or its surreal, dark humor. I still think it's worth watching, even if you may not like it since it is pretty much different than anything else out there, but it's not like that's the only thing going for it. Hell it even has a good message, not something kid friendly, but not every animated movie needs to be.
Jesse Ortega
Super Reviewer
½
A loathsome man who spends his days in a bar and enjoys squashing butterflies grows a pair of wings on his back that have a mind of their own. It features great non-verbal, animated storytelling and inventive animation in that mildly surreal Bill Plympton style, a hip soundtrack by Pink Martini and Tom Waits, and comedy that's wicked and dark without surrendering to nihilism. An under-the-radar winner.
½
Another decent surreal animation by Bill Plympton. Remarkably done without any dialogue.
Idiots and Angels Quotes
There are no approved quotes yet for this movie.