If I Had My Way
(1940)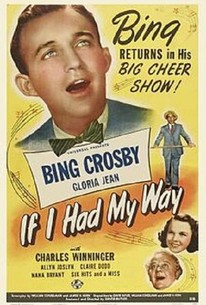 AUDIENCE SCORE
Critic Consensus: No consensus yet.
Movie Info
In this musical drama, a construction worker becomes the guardian of a 12-year old girl after one of his buddies is killed. She and he head to New York to look for her uncle, a vaudevillian. With the help of a good pal, they soon find the uncle. The three searchers encounter trouble when the pal uses all their money to buy a ramshackle restaurant. Fortunately, the construction worker saves them by turning the dump into a red hot night spot. Songs include: "I Haven't The Time To Be A Millionaire", "Meet The Sun Halfway", "April Played The Fiddle", "The Pessimistic Character (With The Crab Apple Face)", "If I Had My Way", "Ida, Sweet As Apple Cider", and "Rings On My Fingers".
Rating:
NR
Genre:
, ,
Directed By:
Written By:
In Theaters:
Runtime:
Studio:
Universal
Critic Reviews for If I Had My Way
There are no critic reviews yet for If I Had My Way. Keep checking Rotten Tomatoes for updates!
Audience Reviews for If I Had My Way
Although Bing Crosby could lift any film he appeared in, not this one. A real disappointment unless you can overlook a superficial plot and lots of Swede sterotype joking around. One of the songs and clip from the movie: http://www.youtube.com/watch?v=BLXkqAhi6gk "If I Had My Way is a 1940 musical comedy film directed by David Butler and starring Bing Crosby and Gloria Jean. Based on a story by David Butler, the film is about a construction worker who takes charge of the daughter of a fellow worker killed in an accident. After bringing the girl to New York to find her uncle, who has spent his life savings on a failed restaurant, he tries to help the girl and her uncle make the restaurant a success."--wikipedia [img]http://upload.wikimedia.org/wikipedia/en/thumb/e/e2/If_I_Had_My_Way_Poster.jpg/220px-If_I_Had_My_Way_Poster.jpg[/img] A serious contender for waste of time. While some might call this a sweet melodrama, it wasn't anything but a disappointment for me. I never thought Bing could get stuck with a lemon, but in my opinion he did in this one. An orphaned girl is helped by Bing to get to her relatives, but they don't want her. Bing manages to fool the rich relatives by using their greed to believe in worthless stock. This one was tough to get through, too silly in many scenes although the beginning did have promise. [img]http://shebloggedbynight.com/wp-content/uploads/2012/09/doomed-ad-la-times.jpg[/img] REVIEWS by those like us: 40% Lackluster Crosby musical. NOTES: 1 Upon the film's recent DVD release, DVD Talk praised Crosby and thought Jean was cute, but criticized the plot and called the film "strictly second-run material". 2 Reviewers in 1940 had kind words for Bing and Gloria, but complained about the timeworn storyline. [img]http://ecx.images-amazon.com/images/I/51s4W1zAbwL._SX342_.jpg[/img] Bing Crosby as Buzz Blackwell Gloria Jean as Patricia Johnson Charles Winninger as Joe Johnson El Brendel as Axel Swenson Allyn Joslyn as Jarvis Johnson Claire Dodd as Brenda Johnson Moroni Olsen as Mr. Blair Nana Bryant as Marian Johnson Donald Woods as Fred Johnson Kathryn Adams as Miss Corbett Blanche Ring as Herself Eddie Leonard as himself Directed by David Butler Produced by David Butler Written by William M. Conselman James V. Kern Story by David Butler Based on Title by Author Music by Charles Previn Cinematography George Robinson Editing by Irene Morra Studio Universal Pictures [img]https://encrypted-tbn1.gstatic.com/images?q=tbn:ANd9GcSxeD77Ci1s7pOD8t3le7CjsnWD7vpmXj3DtqVT04k0wLTI5dImkg[/img]
monsieur rick
½
Bing sings beautifully of course but the script is weak. Your enjoyment of Gloria Jean will depend on your taste for a light soprano voice but she's no Deanna Durbin. El Brendel's character is supposed to be goofily charming but he comes across as idiotic.
½
This movie combines stories from two other Crosby movies: Crosby having to take care of a kid like in East Side of Heaven, and Crosby having to put together a profitable restaurant like in Double or Nothing. It's a predictable Crosby movie, but it's entertaining.
If I Had My Way Quotes
There are no approved quotes yet for this movie.
Discussion Forum
Discuss If I Had My Way on our Movie forum!