If You Are the One (Fei Cheng Wu Rao)
(2008)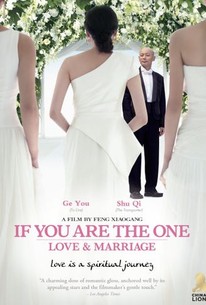 AUDIENCE SCORE
Critic Consensus: No consensus yet.
If You Are the One (Fei Cheng Wu Rao) Photos
Movie Info
This gentle slice-of-life drama from China concerns Chin (Ge You), a middle-aged bachelor who leaves something to be desired in the appearance department. In desperation, he opts to invest some time and money into a personal ad - and spends the following weeks suffering through a nearly endless series of disappointing dates with ill-matched, unpleasant, and sometimes downright eccentric women. His fate turns somewhat when he meets Xiaoxiao (Shu Qi). She's gorgeous, she's engaging, and her personality meshes beautifully with his own - but Chin can't quite shake the feeling that she's way out of his league. Recalcitrant about the idea of approaching her romantically again, Chin settles for a friendship with Xiaoxiao and the two find a bright spot in each others' lives.
Critic Reviews for If You Are the One (Fei Cheng Wu Rao)
There are no critic reviews yet for If You Are the One (Fei Cheng Wu Rao). Keep checking Rotten Tomatoes for updates!
Audience Reviews for If You Are the One (Fei Cheng Wu Rao)
½
Quite funny. I enjoyed the series of bad dates he meets through the personals ad. The little trip to Japan in the middle was also a highlight. I loved the four sisters scene. It does turn a little more serious and less funny after this part, but it's entertaining and doesn't wear out it's welcome even though it's over 2 hours long. I have also got part 2 on the HD to watch as both were shown on TV within a week of each other.
Nicki Marie
Super Reviewer
½
English name of the movie 非诚勿扰(literally "if not sincere, do not disturb") is If You Are the One and this romantic comedy directed by Feng Xiaogang is starring very popular Ge You and Shu Qi. This is one of Feng's top grossing films to date, and has earned over ¥364 million (US$53.7 million) at the box office. This story is following basic romantic comedy pattern but it is still fun to follow Qin Fen (Ge) who returns to China in his late forties after many years overseas. Almost a failure because he didn't earn any type of degree while he was overseas, he has an amazing skill to convince others. Using this skill he becomes a multimillionaire after selling an "innovative invention" to a high-profile foolish investor (Fan). With his new fortune, Qin decides to put an end to his bachelor life and advertises online for potential partners to apply "if you are the one", that is, only if they are sincere. Ironic observational comedies are Feng's speciality and this one is no exception! Funny encounters are various as the candidates, from a homosexual former friend, a cemetery saleswoman with a thick south-Chinese accent, a pathological amnesiac, an ethnic minority pecking hen, an erotophobic widow, an expectant single mother (Hsu), and a stock-holding trader... the serious part starts when he crosses paths with air stewardess Liang Xiaoxiao (Shu), who previously had a painful love affair with a married man (Fong). But they became friends... what are the chances for more? If you want to enjoy a movie full with airy playfulness, filled with unreserved energy delivering us the predictable romance, this is the one! You will be unembarrassed having a pleasure enjoying the obvious. Master Feng proves that is possible to make a movie with a formula, bringing the formula to vivid life!
A film from China, and I must say I was very impressed with the storyline and acting. About a Chinese Man looking for a wife, he puts a classified online looking for a wife, he searches all of China meeting women for a blind date to seek his mate. Will not revel anymore, yes a chick flick but could be enjoyed by that husband or dating man your spending your weekends and nights with, make sure you have the remote. 4 Stars
Bruce Bruce
Super Reviewer
If You Are the One (Fei Cheng Wu Rao) Quotes
There are no approved quotes yet for this movie.