Il Trono di fuoco (The Bloody Judge)
(1970)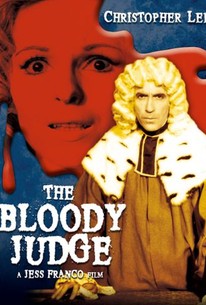 AUDIENCE SCORE
Critic Consensus: No consensus yet.
Il Trono di fuoco (The Bloody Judge) Videos
Il Trono di fuoco (The Bloody Judge) Photos
Movie Info
This erotic horror film from cult director Jesus Franco is based on the witch-hunting exploits of Lord Chief Justice Jeffreys (Christopher Lee), a real historical figure who died in prison in 1702 at the age of 54. In 1685 England, young Alicia Gray is burnt for witchcraft. Alicia's sister Mary (Maria Rohm) unwisely falls for Harry Selton (Hans Hass, Jr.), a rebel against King James II. After the rebels are defeated, Harry is captured by agents of Lord Chief Justice Jeffreys (Christopher Lee), who defends the crown by accusing its enemies of witchcraft. Also a captive, Mary tries to save her lover by surrendering herself to the cruel Judge, who takes perverse sexual pleasure in sadistic torture. The film revels in displays of whipping, sex, and chained women, but is difficult to evaluate otherwise due to the numerous different versions available, some with alternate endings. One version has Jeffreys hanged, then taken down and beheaded, while another has him watching a hanging from a window while a narrator reads his death sentence. There is also a third ending in which Jeffreys makes a confession to Harry's father, the Earl of Wessex (Leo Genn), before suffering a fatal heart attack. Franco used the character again, this time portrayed by Cihangir Gaffari (aka John Foster) in his 1972 film Les Demons. Howard Vernon, who plays the cruel executioner Jack Ketch here, took a heroic role in the sequel. ~ Robert Firsching, Rovi
Critic Reviews for Il Trono di fuoco (The Bloody Judge)
All Critics (1) | Fresh (0) | Rotten (1)
Franco's usual cinematic shortcoming are elevated to the level of garden-variety incompetence.
Audience Reviews for Il Trono di fuoco (The Bloody Judge)
½
Be careful. You're going to your own destruction. The Lord Chief Justice of England during the 17th century often sends women to their deaths, condemning them as witches to help with his political and sexual desires. There are several revolts to try and take him out of power, but it may take the witches banding together to ultimately take the ruthless politician down. "No time for wenches or weddings, friend." Jesus Franco, director of The Oasis of the Living Dead, Dracula Prisoner of Frankenstein, Snakewoman, Venus in Furs, Incubus, Broken Dolls, and Helter Skelter, delivers The Blood Judge. The storyline for this picture is bland, not overly scary, and seemed like an excuse to throw nudity into a horror movie. The cast also delivers just okay performances and includes Christopher Lee, Maria Schell, Leo Genn, and Maria Rohm. "She has been well examined? Thoroughly?" I came across this picture on Netflix and decided to give it a shot. Initially, I was excited to see this since it starred the horror genre legend Christopher Lee. Unfortunately, this isn't that good. Lee delivers some strong lines with the right tone and feel, but that isn't enough to save this disappointment. "My eyes don't cry anymore." Grade: D
Kevin Robbins
A hypocritical judge (Lee) illustrates why a little rebellion among the peasentry can be a good thing every now and then. Loosely based on the final months of notorious and controversial historical figure non-nonsense 17th century British hanging judge George Jeffries, this film is probably the best work I've seen from Spanish hack director Jess Franco. The plot is coherent and engaging, the camerawork and sets are fairly decent, and there's actually a few well-staged action scenes. To top it off, the characters are even interesting... as repulsive as Jeffries comes across, he is emerges as a fascinating character... and Maria Rohm's pure-hearted peasant girl (who the vile Jeffries forces to have sex with him in exchange for her sister's life) is a character that the viewer can feel real pity for. Unfortunately, the film also has all the hallmarks of some of other Franco's pictures, such as unnesscary torture scenes and nudity and just general crap thrown in to gaurentee an R-rating at the very least. (Franco must have been the role-model for the fools who were in charge of "[url="http://www.rottentomatoes.com/vine/journal_view.php?journalid=245672&entryid=356606&view=public"]Snakes on a Plane[/url]" as far as that approach goes.) Interestingly, this film would have been stronger if a scene that apparently was only included in the German-language version of the movie had been in all the edits. Although repulsive for some of its sexual/torture content, it does make some later part of the film seem a little less sudden plot development-wise. This "lost" scene and other bonus material included on the "Blue Underground" DVD release of the picture (the release date of which is what Rotten Tomatoes lists as the film's release date... "The Bloody Judge" actually dates from 1970) actually makes up a very worthwhile package for fans and scholars of "exploitation cinema" and other B-movies. The liner notes are somewhat rediculous (the reviewer who wrote them seems to hold this movie and Franco's work in general in much higher esteem than I think even Franco himself would) and the interview with Christopher Lee makes him seem like a pompous ass, but it's all very interesting and, along with the included deleted and alternate scenes, the material gives rare insight into the production and marketing processes that went into these multi-national European productions of the 1960s and 1970s. The Bloody Judge (aka "Throne of the Blood Monster", "The Witch's Trial" and "Witch-killer of Broadmoor) Starring: Christopher Lee, Leo Genn, Maria Rohm, Margaret Lee, Hans Hass, and Milo Quesada Director: Jess Franco
Steve Miller
Awesome Franco film with a tour-de-force performance from Christopher Lee. A similar plot to other hexploitation flicks like the original Witchfinder General and the infamous Mark of the Devil, The Bloody Judge is a beautifully filmed period piece that plumbs the depths of sadistic depravity. Filled with sex, torture, and various conflations of the two, The Bloody Judge is one of Franco's great exploitation masterpieces. Filmed with an actual budget, The Bloody Judge is a beautifully filmed period piece akin to Franco's film version of the Marquis de Sade's Justine. A film that will no doubt delight Franco fans but that may be too much for fans of traditional Christopher Lee fare, such as a the Hammer films.
Al Miller
Il Trono di fuoco (The Bloody Judge) Quotes
There are no approved quotes yet for this movie.
Discussion Forum
Discuss Il Trono di fuoco (The Bloody Judge) on our Movie forum!