Ill Manors
(2012)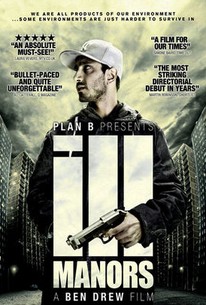 Movie Info
A unique crime thriller set on the unforgiving streets of London, iLL MANORS follows six disparate lives, all struggling to survive the circles of violence that engulf them. There is ex-dealer Kirby, who has just been released from prison, thug Ed who will stop at nothing to find his missing phone, troubled Michelle who is just looking for her next hit, young Jake who finds himself drawn to the local gang, Chris, who seeks revenge, Katya, who is desperately trying to escape this foreign land, and Aaron, our main protagonist who is just trying to do the right thing.
Critic Reviews for Ill Manors
Audience Reviews for Ill Manors
A low budget first feature from a versatile artist whom I've never heard of before, Plan B aka Ben Drew? He'll be remembered for this film though... Accompanied by several rap-narratives, this tale of survival in the British slum neighborhood slowly grips you and never let go...
Ben Huat
A few flaws, but on the whole it's definitely worth a watch. Great story telling and a thrilling narrative. The acting is pretty good, except Skrein was only a caricature of a thug.
Mad Martigan
"Ill Manors" is the directorial debut for Britain's Ben Drew, also known as Plan B, the musician. Drew has a bright future ahead of him, I don't think anyone questions that. There are some flashes of good film making and story telling, and really a fine effort for his debut. Unfortunately, the stories being told need more variety, instead of hammering home one singular message. Each character in the film (four drug dealers, one user, and two prostitutes), is an unfortunate product of circumstance seeking escape. Drew goes for what he knows best and sets his movie in his own manor of Forest Gate in London's East End. Small time dealers Ed and Aaron, hold the multi-layered narrative and ensemble cast together by searching for Ed's stolen mobile. This plot device drives the childhood friends into dubious encounters with street people of Britain. A fragmented tale, weaving together a bleak picture of violence, crime, prostitution. This is social commentary by numbers, a gang initiation here, a heroin addict there, everyone is angry and pissed off, victims of abuse. Not to make light of the subject, but we've seen it all before in a number of films, and that is all--and the only thing we see in this film. Drew does a fine job weaving together a series of narratives involving these people, and their stories; ranging from illegal immigrants forced into prostitution, drug addiction, and gang land violence. He effectively portrays how each character is affected by their environment, and how the decisions they make have ripple effects impacting others. Drew displays some nifty camera work --split screens, time-lapse, and flashy editing. An unique addition to the film is the musical score that provides a back-drop to the saga, intertwined into the narrative of the story. Plan B's (Drew) provides his own compositions, in which he raps and sings over parts of the on-screen drama. Each individual song on the soundtrack refers to a specific sequence or character in the film, displaying Drew's raw talent and well-rounded abilities. Cinematography and Production design are first-rate, but the story is mediocre and the perpetual misery never lets up and leaves the screenplay exceedingly overbearing. Ben Drew's cameo is in the final scene as the cab driver. For additional reviews visit http://www.rottentomatoes.com/member/Nesbitt10
Robyn Nesbitt
Ill Manors Quotes
There are no approved quotes yet for this movie.
Discussion Forum
Discuss Ill Manors on our Movie forum!