I'll Never Forget What's'isname
(1968)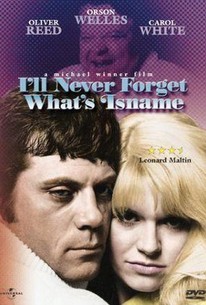 AUDIENCE SCORE
Critic Consensus: No consensus yet.
I'll Never Forget What's'isname Photos
Movie Info
The imprisoning aspects of Success are humorously analyzed in this British-made film. Oliver Reed plays a wealthy advertising man who feels he has sold his soul and wishes to return to his happier earlier existence as a poor but swinging Londoner. Reed is goaded on by his boss, Orson Welles, who represents all the mercenary crassness that Reed despises. Handed a crucial commercial account, Reed plans to destroy himself by producing as offensive and confusing an ad campaign as possible. But Welles and the client are delighted by the "insult," and the disgruntled Reed is more successful than ever. Directed in the fragmentary "psychedelic" style typical of the late 1960s, I'll Never Forget What's'is Name gained notoriety upon its initial release by being the first mainstream British film in which the "F" word was spoken on-screen. ~ Hal Erickson, Rovi
Rating:
NR
Genre:
, ,
Directed By:
Written By:
In Theaters:
On DVD:
Runtime:
Critic Reviews for I'll Never Forget What's'isname
All Critics (1) | Fresh (1) | Rotten (0)
Winner mixes kitchen-sink realism with flights of fantasy and Bergman-esque dream sequences in a spectacularly successful manner.

Mountain Xpress (Asheville, NC)
Audience Reviews for I'll Never Forget What's'isname
½
First ever use of the F word on screen, this British 67 flick is so telling of the times. Oliver Reed, sick of success, wants to go back to a simpler life. SEE the entire Oliver Reed film here: http://www.youtube.com/watch?v=U4Q4DkHD5Hw A Michael Winner directe film. [img]https://encrypted-tbn0.gstatic.com/images?q=tbn:ANd9GcRMLsVTAZ21LRhkxSU4M-XGtx2SjtbHXDYhcPND6wWPpues5fBQLQ[/img] Reed, right Faithful left the girlfriend (he is separated) REVIEWS by those like us: 60% Quint's camera ad makes this worth the watch. Plus Orson Welles eating barely flakes! 100% Wow! Another amazing, waaay ahead of its time film. And another piece of filmmaking with editing that, in some ways, surpasses today's mise-en-scen... [img]http://www.bfi.org.uk/sites/bfi.org.uk/files/styles/15_columns/public/image/ill-never-forget-whats-is-name-1967-002-oliver-reed-carol-white-00o-28u.jpg?itok=VjjTBA5-[/img] NOTES: 1 Along with a similar scene in Charlie Bubbles (1967), this helped to bring about the end of the Production Code in the USA and its replacement with a ratings system. 2 In the United States, the film was denied a MPAA seal of approval due to a scene between Oliver Reed and Carol White which implied (but did not actually show) oral sex (Director Winner, in his audio commentary, said he considered the scene to show masturbation. 3 The film is often named as the first mainstream film to use the word "fuck" in its dialogue. Another contender is Ulysses, which was released earlier the same year. [img]http://www.movieposter.com/posters/archive/main/71/MPW-35752[/img] Jonathan Lute - Orson Welles Andrew Quint - Oliver Reed Georgina Elben - Carol White Gerald Sater - Harry Andrews Headmaster - Michael Hordern Louise Quint - Wendy Craig Nicholas - Norman Rodway Josie - Marianne Faithfull (then a pop-rock singer) Chaplain - Frank Finlay Carla - Ann Lynn Charles Maccabee - Harvey Hall Susannah - Lyn Ashley Walter - Edward Fox (Fox famous for Dirty Dozen, Day of the Jackel) Michael Cornwall - Mark Burns Kelloway - Mark Eden Young Andrew Quint - Hugo Keith-Johnston (uncredited) [img]http://www.moviegoods.com/Assets/product_images/1020/113651.1020.A.jpg[/img] Directed by Michael Winner Produced by Michael Winner Written by Peter Draper Music by Francis Lai Cinematography Otto Heller Editing by Bernard Gribble Distributed by J. Arthur Rank Film Distributors (theatre) Anchor Bay Entertainment (DVD) Release dates 18 December 1967 Running time 97 minutes Country United Kingdom Language English [img]http://www.stojo.com/images/Grabs/Whatsisname%2002.jpg[/img]
monsieur rick
½
Unfairly forgotten, "I'll Never Forget What's'isname" may be sabotaged by its awkward title -- which doesn't even have much connection to the script. Wouldn't you expect it to be a line of dialogue? Nope, try again. Oliver Reed is Andrew Quint, a ruggedly handsome ad executive who's brilliant at his job but disillusioned. He works for corrupt mogul Jonathan Lute, played by Orson Welles with his usual dazzling charisma. The story opens with Quint axing his desk to pieces and quitting his job. He returns to the struggling literary magazine which launched his career, hoping to regain his spiritual bearings. Naturally, the ruthless Lute scoffs at the move. At this initial stage, the film seems poised to be a dark satire of advertising and capitalism. But unfortunately, it strays too far into romantic issues during the second act, as Quint spars with his cynical wife and courts the miniskirted honeys who skip through his world. There's model-thin Carla, who has moved on. There's Josie (Marianne Faithfull at her sexy peak, sadly limited to just a few minutes of screen time). And there's his new co-worker, the virginal Georgina (Carol White). The latter seems his best bet for a new relationship if his wife carries out her divorce threats. Meanwhile, Lute schemes to put Quint back under his control. Along the way, Quint recalls his bullied youth, rendered in arty flashbacks distorted with tinting and jagged edits. Welles draws a couple of big laughs (his disgusted reaction to a bowl of barley flakes can not be missed). Faithfull shows some skin and calls Quint a "f*cking bastard" -- disputably, the first time that profanity was ever uttered in a mainstream film. And eventually, there's one of those fictional TV commercials that are so dependably fun to see. The story also turns much more dramatic than its early scenes would suggest. It's fascinating that this '60s-era protagonist has so much in common with "Mad Men"'s Don Draper, and the screenplay is written by someone named...Peter Draper. This can't be coincidence, can it? Matthew Weiner, drop me a line.
Eric Broome
Super Reviewer
Another Swinging Sixties satire. Andrew Quint is a successful advertising agent juggling between his wife and his two mistresses until one day he decides that the high life is not for him and reacts by strolling through the streets of London with an axe and letting loss on his desk. Oliver Reed does a good job playing Andrew while an aging Orson Welles plays his annoying boss determined to keep him on just so he and his company can get an award. Carol White stars as Quint's new secretary and doomed mistress. Her acting is a bit ropey at times, but she does a pretty good job, whilst being easy on the eye in her fabulous sixties attire. I was excited by the fact that Marianne Faithfull plays one of Quint's mistresses till I found that she was only in three very short scenes. Still, in this film she did have the privilage of being the first person in a British film to say "fuck". Overall, not a bad film. I didn't find it as enjoyable as similar films but it was worth watching.
Discussion Forum
Discuss I'll Never Forget What's'isname on our Movie forum!