Ill Gotten Gains
(1997)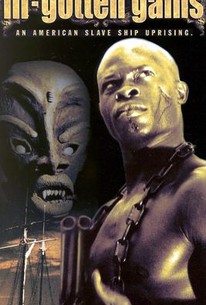 AUDIENCE SCORE
Critic Consensus: No consensus yet.
Movie Info
A kidnapped African fights for his life rather than allowing himself to be sold into slavery in this historical drama. In 1869, slavery is outlawed in America as well as most of the world, but that doesn't stop certain unscrupulous traders from trafficking in human beings to an underground market in the U.S. As the ship Argon Miss begins to enter British waters, 24 kidnapped African natives are held in chains below the decks, with another 60 soon to be delivered. As the captives ponder their fate, they are visited by an ancient spirit (voice of Eartha Kitt) that has been trapped within the planks used to build the ship. The spirit urges the slaves to escape to freedom while the African coastline is still within reach. One of the slaves, Fyah (Djimon Hounsou), is so moved that he breaks free from his shackles and leads his fellow captives in an effort to take over the ship and sail home. Blending an accurate historical recreation of period slave ships with dialogue that incorporates modern-day slang, Ill-Gotten Gains was shot on the same ship used in Steven Spielberg's drama about a slave uprising, Amistad, and features the same leading actor, Djimon Hounsou, though Ill-Gotten Gains was filmed several months before Spielberg's picture.
Rating:
R (for brutal violence including rape, pervasive strong language and some sexual content)
Genre:
Directed By:
Written By:
In Theaters:
On DVD:
Runtime:
Studio:
Xenon
Critic Reviews for Ill Gotten Gains
There are no critic reviews yet for Ill Gotten Gains. Keep checking Rotten Tomatoes for updates!
Audience Reviews for Ill Gotten Gains
½
[font=Arial Black][img]http://images.dvdempire.com/gen/movies/8215h.jpg[/img][/font] [font=Arial Black]Plot: In 1869, five years after the abolition of slavery, 24 men find themselves to be captives in the hold of the slave ship "Argon Miss" anchored off of the New Guinea coast of West Africa. The incarcerated men, driven by a spiritual force, attempt to gain their freedom through a bloody uprising. This film shares both a star (Hounsou) and similar subject matter to Spielberg's AMISTAD, but the similarity ends there. This film premiered before AMISTAD began shooting, and is far grittier.[/font] [font=Arial Black][/font] [font=Arial Black]Review: Ill-Gotten Gains was a movie dat really kept my attention and I liked it even if it wasn't a big production movie like "Amistad". I thought the movie was real and was intriguing. The movie is in Black & White symbolizing a Black and white issue, giving the movie an eerie and raw feel. I loved dat they used modern street language of today then the language or accents spoken in those times. Djimon Hounsou stars in this movie, who was also in the movie "Amistad" was really good, he had good presents and play his character very well. Ill-Gotten Gains was written 2 years before Spielberg's "Amistad" and the "Amistad" movie just started production rite after "Ill-Gotten Gains" premiere at the Pan-African film festival. The Amistad movie even used the same boat used in "Ill-Gotten Gains". But I'm not gonna compared the two movies I haven't even seen "Amistad" yet but it should be good especially if it's a Spielberg movie, I gotta check it out. I highly doubt dat "Ill-Gotten Gains" is better then "Amistad" but it may be a little more real. You may hate it or love it but it's still something u gotta see. The special features r really good to, there's a documentary and an Interview wit the director.[/font]
Sammy Ruiz
Ill Gotten Gains Quotes
There are no approved quotes yet for this movie.