I'm Not Scared (Io non ho paura)
(2003)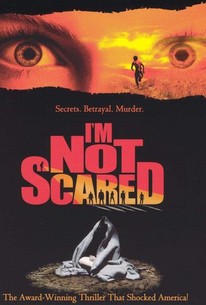 I'm Not Scared (Io non ho paura) Photos
Movie Info
Gabriele Salvatores' kidnapping drama lo Non Ho Paura (I'm Not Scared) is about a boy dealing with issues he cannot quite comprehend. While playing outside one day, nine-year-old Michele (Giuseppe Cristiano) discovers Filippo (Mattia Di Perro), who is chained to the ground at the bottom of a hole. Michele witnesses town baddie Felice (Giorgio Careccia) nearby and suspects something bad is happening. Michele is unsure whom he should tell about his discovery, eventually spilling the beans to his closest friend. Michele's parents learn of his discovery and warn him to forget whatever he saw. I'm Not Scared was screened at the 2003 Berlin Film Festival.
Critic Reviews for I'm Not Scared (Io non ho paura)
Audience Reviews for I'm Not Scared (Io non ho paura)
Well i'm shocked as to how well liked it is. I found it to be an unexciting, predictable movie start to finish! I wouldnt watchit or recommend it!
Film Crazy
Super Reviewer
Part suspenseful thriller and part coming-of-age drama, I'm Not Scared is a minor masterpiece of film making from director Gabriele Salvatores. It's a story of crime and courage, a story of a young boy's realization that there is evil in the world and those nearest him are not only aware of it, they may be a part of it. Not a perfect film, but the flaws are completely forgivable.
Randy Tippy
Super Reviewer
½
This magical Italian rite of passage movie manages to do some difficult things very well but is less successful when bogged down with the demands of conventional storytelling. When it's going nowhere in particular, just showing something vaguely sinister chipping away at a boy's innocence, the film works brilliantly. However, when the plot asserts itself and that something sinister is defined - a kidnapping tale with a threat of John Paul Getty III-like aural mutilation - director Gabriele Salvatores' handling of the resultant thriller element is much less impressive. Worse still, for a film that I felt could go absolutely anywhere when it burst confidently onto the screen, things become disappointingly predictable towards the end. On the plus side, the child performances - so crucial to the success or failure of the movie - are excellent, especially those of Giuseppe Cristiano (Michele, the boy) and Giulia Matturo (Maria, his younger sister), and the Southern Italian countryside is simply breathtaking. My favourite moment is when Michele confesses to his sister that he cannot see her imaginary dog playing in the fields behind their house, and in the very next scene we see the combines rolling over the hill to harvest the wheat crop; we know with heartbreaking certainty that something intangible yet vitally important is gone forever, and that things can never be the same again for Michele.
I'm Not Scared (Io non ho paura) Quotes
There are no approved quotes yet for this movie.