Imaginary Witness: Hollywood and the Holocaust
(2004)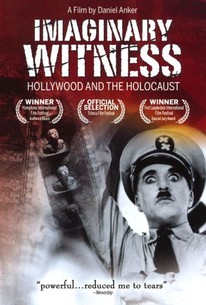 Movie Info
This is the riveting story of the American film industry's complex and fascinating response to the horrors of Nazi Germany. Utilizing carefully selected excerpts from extraordinary and in some cases rarely-seen films, and told through the first-hand accounts of the directors, actors, writers, and producers, the film covers some of Hollywood's most important movies, including "The Mortal Storm," "The Great Dictator," "The Search," "The Diary of Anne Frank," "The Pawnbroker," "Judgment at Nuremberg," "Sophie's Choice," and "Schindler's List." The film takes us from the American ambivalence and denial during the heyday of Nazism, through the silence of the post-war years, and into the present day. It asks hard questions: about the uneasy relationship between American popular culture and the Holocaust, about the responsibility of filmmakers in their portrayal of history, and about the power of film itself to affect the way we look at ourselves.
Critic Reviews for Imaginary Witness: Hollywood and the Holocaust
Audience Reviews for Imaginary Witness: Hollywood and the Holocaust
½
I study the role music plays in our lives, so it was interesting to see the ties between Hollywood, the US, and the Holocaust.
Stacy Mann
½
This is an excellent documentary, which depicts the Holocaust through Hollywood movies and television. Especially interesting is Hollywood's anemic reaction to Hitler's rise to power during the 30s, which shows how afraid Hollywood moguls were to offend Nazi Germany before America's entry into the war. The film clips of the Holocaust shown through movies is brilliantly depicted, and the commentary from historians and movie makers explains the evolution of how Hollywood movies became more honest and open in showing this horrible chapter in human history. Very interesting film.
Cynthia S.
Super Reviewer
½
An in-depth look at how Hollywood has portrayed the Holocaust, from Confessions of a Nazi Spy and Black Legion to Schindler's List and The Pianist. Insightful and revealing.
Randy Tippy
Super Reviewer
Imaginary Witness: Hollywood and the Holocaust Quotes
There are no approved quotes yet for this movie.
Discussion Forum
Discuss Imaginary Witness: Hollywood and the Holocaust on our Movie forum!