Imagine: John Lennon
(1988)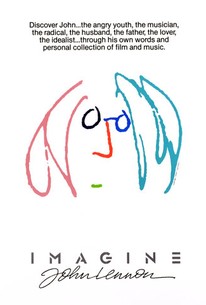 Imagine: John Lennon Photos
Movie Info
The personal film archives of Yoko Ono were utilized for this feature-length documentary on the life of John Lennon. Predictably, it downplays Lennon's association with the Beatles and concentrates on his years with Ono. The film spends a lot of time recounting Lennon's anti-war activities, highlighted by a confrontation on a talk show hosted by conservative cartoonist Al Capp. The title of the documentary is, of course, taken from Lennon's idyllic ballad about a world free of hatred and discord. Imagine: John Lennon is a reverent but ultimately depressing chronicle of an artist who died the untimeliest of deaths.
Rating:
R
Genre:
,
Directed By:
Written By:
In Theaters:
On DVD:
Runtime:
Studio:
WARNER BROTHERS PICTURES
Cast
News & Interviews for Imagine: John Lennon
Critic Reviews for Imagine: John Lennon
Audience Reviews for Imagine: John Lennon
As a documentary about a man, Imagine is perfunctory, glossing over some issues; but as a time capsule, this film is riveting; immersing the viewer in the 60's and 70's ideologies. Much of this film comes from the Lennono archives, and as such has a grainy quality, but that's to be expected - what makes this special is how director Andrew Solt mixes in audio from hundreds of hours of prior interviews with Lennon and keeps the narrative going forward, chronicling the life and times of music icon and political activist John Lennon. The footage of Beatlemania, with remixes of classic tunes easily propels the first third of the film, but it is with the breakup of the Fab Four that the film turns more introspective and gives insight into John the person, rather than John the Beatle. Glossing over John's drug use and his reliance on Yoko to "take care of him", is a failing, and yet the film does a fine job of portraying the enigma and letting you decide for yourself if he was just a guy trying to do right and using his fame not to keep in the spotlight, but to actually make the world a better place. Personally I can have it both ways - fully aware of the irony of the closing video of John at his white piano in the drawing room of his 100 acre mansion crooning "imagine no possessions, I wonder if you can?" Of course he is more sincere in his peace activism - writer of the anthems "Give Peace A Chance" and "All You Need Is Love" are heartfelt tomes to an age of self enlightenment, where he is saying that there is no reason to not be at peace, not only at the national level, but the personal one as well. I think that here is the soul of the man, trying to reach out to every other tortured soul and say "it's all right". There is much footage here that is duplicated in the later Beatles Anthology, and if you've seen that more complete history, then this one leaves a bit to be desired - but since it focuses more on John's life, post Beatles, then this is a must see for everyone, not just music fans, as it truly sheds a light on the social and political mores of that mystical age of unrest and discovery that was the 60's.
paul sandberg
Super Reviewer
This movie has a great soundtrack, and always make me cry a little at the end. A great documentary that any Beatles/John Lennon fan should check out.
Joey White
A great documentary about John Lennon, showcasing his career before, during, and after the Beatles up until his death in 1980. It is interesting to see so much of Lennon's personal life, much of the footage was shot when Lennon was still alive, and has a lot of narration from the man himself. I don't really know why he was shooting so much footage, but it is actually quite fascinating that he did, as it really gives us a in depth look into his life before he was shot.
Ken Scheck
Discussion Forum
Discuss Imagine: John Lennon on our Movie forum!
News & Features