Cirque du Soleil: Journey of Man
(2000)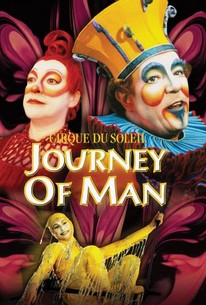 Cirque du Soleil: Journey of Man Photos
Movie Info
The Cirque du Soleil performers present a musical and artistic allegory depicting the stages of human and cosmic development. Historic sites around the world serve as the backdrops for the performances, with the climax at Berlin's Brandenburg Gate.
Critic Reviews for Cirque du Soleil: Journey of Man
Audience Reviews for Cirque du Soleil: Journey of Man
It's difficult to give this a rating. While some of the acrobatics were unarguably fantastic, the story was more or less completely unnecessary and felt really strained to try and convey some cheesy message in its short 38 minutes. And just when the acrobatics had started to get really impressive, the feature ended. Would have been better even as nothing more than a performance of one of their stunning live shows. Good soundtrack, though.
Zelyaine T
½
This was unlike any Cirque du Soleil I've ever seen before in that it had an English narration (by Ian McKellen) and large amounts of the film dedicated to creating a coherent plot. There was far less focus on the actual circus tricks than a normal Cirque du Soleil movie (it seemed), but when they did come across the acts they were beautifully set and mesmerising as always. In fact, these moments are possibly even more memorable for their setting and their place in the plot.
Angela Alcorn
Super Reviewer
A wonderful journey through human existence, told in natural and poetic settings, and performed by Cirque du Soleil drummers, swimmers, clowns, acrobats, jugglers, and balancers. The music was mesmerizing and the costumes were nature's colors. It was narrated by Ian McKellan. The different settings of cave, pond, forest, canyon, ruin, palace and nighttime sky were very imaginative. It was all dreamy. I wished I had seen this on the big IMAX screen. Superb. One special occassion, I played it 10 times repeatedly as a background video.
Lafe Fredbjornson
Super Reviewer
Cirque du Soleil: Journey of Man Quotes
There are no approved quotes yet for this movie.
Discussion Forum
Discuss Cirque du Soleil: Journey of Man on our Movie forum!