Immigration Tango
(2011)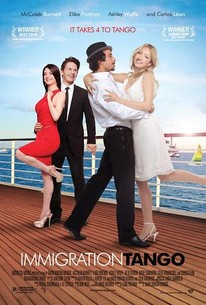 Movie Info
When Elena, a Russian immigrant studying in Miami and Carlos her Columbian boyfriend run out of legal options for staying in the U.S. the couple switch partners with Betty and Mike, an American couple who are also their best friends. All is well until the stress of keeping up appearances to their family members and a savvy immigration enforcement agent eventually begins to take its toll. -- (C) Roadside Attractions
Critic Reviews for Immigration Tango
Audience Reviews for Immigration Tango
½
The stuff of mind-numbing sitcoms. Complications, of course, ensue, but they're exactly the complications you expect, with exactly the results.
Lee Mayo
Although not a tearjerker or a five-hanky flick, Immigration Tango made me feel quite sad as I watched it knowing that the four lead actors (McCaleb Burnett, Ashley Wolfe, Elika Portnoy and Carlos Leon) probably signed on to this movie with a LOT of hope and some high-flying dreams that this would be "the one" that got each of them discovered/recognized and it would become their "stepping stone" that led to bigger and better roles and movies . There is little doubt that whatever follows Immigration Tango will be much better ... but that is only because this one is sooo subpar. It is poorly written and filled with everyday cliches; badly over-emphasized accents; and demeaning stereotypes (I was rather surprised by some of them still being around in 2011!). As the film begins, we are introduced to the two couples who live in Miami and are best friends. A dating couple from the U.S. -- Mike and Betty -- struggle with student loans and his doctoral thesis (she is also still in law school). Their best friends, Elena and Carlos, are not native born -- she is eastern European and he is from Colombia (random supporting characters waste no timer in asking him for cocaine -- although that is so 1980's!) -- and they soon face the threat of deporation by ICE. It all spirals out-of-control when SHE is sexually harrassed at a job interview and the sleazoid she'd denied turned her in (as if ... especially since the entire confrontation was on speakerphone and the entire office heard his deplorable behavior). As a means of "helping" their best friends in this time of need, the couples "swap out" and Mike marries Elena while Betty weds Carlos. Immigration Tango introduces various family members who don't know what to make of the new developments and aslo many Immigration Enforcement Officers who are simply doing their jobs investigating the new green card couples. And speaking of which, it is basically THAT movie 20-plus years later ... although Green Card is FAR SUPERIOR to this one and there is no worrying about Monticello here. None of this feels spontaneous or original and it comes across feeling like a slightly-demeaning sitcom. All of the characters had a specific role to fill at the onset of the film -- and they never deviate as NONE of characters could be original. If you don't see this movie, you aren't missing much. There's little here ... and the four stars are still looking for their stepping stone.
Thomas Williams
½
Immigration Tango is a comedy about forced relationships to help friends. Some brief nudity by Elika Portnoy was not at all upsetting. Good date movie, see it.
John Shields
Immigration Tango Quotes
There are no approved quotes yet for this movie.
Discussion Forum
Discuss Immigration Tango on our Movie forum!