Immortal Sergeant
(1943)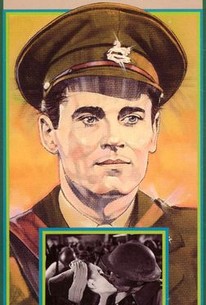 AUDIENCE SCORE
Critic Consensus: No consensus yet.
Movie Info
Though Henry Fonda is top-billed in The Immortal Sergeant, the title character is played by Thomas Mitchell. Set in the Libyan Desert during WW2, the story finds tough but compassionate British Eighth Army sergeant Kelly (Thomas Mitchell) in charge of a 14-man patrol. Kelly's corporal is Colin Spence (Henry Fonda), a shy and retiring Canadian. When the squad becomes lost in the desert, it is the guidance and example of Kelly that brings the timid Spence out of his shell. Kelly ultimately dies, leaving Spence in charge of the surviving soldiers. Applying the lessons learned from the Immortal Sergeant, Spence is able to lead his comrades back to allied lines, becoming a hero in the process. Second-billed Maureen O'Hara plays Spence's sweetheart in a series of gratuitous but effective flashbacks. Immortal Sergeant was based on the novel by John Brophy.
Rating:
NR
Genre:
, ,
Directed By:
Written By:
In Theaters:
On DVD:
Runtime:
Studio:
20th Century Fox Film Corporation
Audience Reviews for Immortal Sergeant
Henry Fonda plays a quiet, unassertive bloke who is gliding through life sort of, when WWll strikes in England. He joins the fight because ... and in the process of war leaves "quiet, unassertive" behind. On the front he remembers fondly the girl he left behind, seen in flashbacks (Maureen O'Hara, as sexy a woman as ever lived) but his reality is the present: enemies trying to kill him, slackers backbiting next to him, and his only friend a tough veteran who gives him the downlow on what's what in life (embodied by Thomas Mitchell in the title role in one of his best roles ever). The timelessness of this tale cannot be overstated, and the director, John M. Stahl, makes the most of the limited budget he had. Worthy.
Kevin M. Williams
Super Reviewer
½
I thought that this was an interesting World War II film compared to many seen. Not too many war films do you see Canadian soldiers as the main characters. I liked how the film showed the importance and value of food, even when it came to a single can of food when your desperate. I liked the fact that the film showed flash backs before the war. Also not too many films show ware fare during a sandstorm. I thought it was a pretty good film for ware morel back in 1943. I thought the film was pretty good and showed a different aspect of the was.
STCENTERPRISE .
Henry Fonda plays a Canadian who joins the Brits in WWII. During the war, he thinks about Maureen O'Hara (who looks lovely in flashbacks), the girl he loves but never really set anything definite about their relationship. Before the war, Fonda was kind of a wimp and during the war, he learns about courage from Sergeant Kelly and becomes a war hero. Yes, the story is a bit typical, but it's one of my favorite war movies because there's more to it than just killing Nazis. There's a nice little love story (although I wish they would show more of it than just the five brief flashbacks) and there are good performances as well. For any Fonda or war movie fans, "immortal Sergeant" is for you.
Audrey-Kim Hayworth