Impact (MINI-SERIES)
(2008)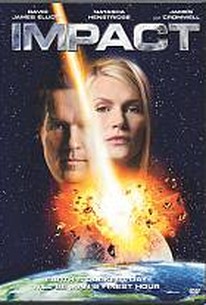 AUDIENCE SCORE
Critic Consensus: No consensus yet.
Impact (MINI-SERIES) Videos
Impact (MINI-SERIES) Photos
Movie Info
After a meteor shower streaks through the Milky Way, a brown dwarf with heavy gravitational pull crashes on the moon, causing the lunar body to change its orbit and head straight toward Earth on a deadly collision course. With less than 40 days to restore the moon's orbit, scientists Alex Kittner (David James Elliott), Maddie Rhodes (Natasha Henstridge), and Roland Emerson (Benjamin Sadler) are in a desperate race against time to launch a lunar mission that will save both planets from mutual destruction. James Cromwell and Steven Culp co-star.
Rating:
NR
Genre:
, , ,
Directed By:
Written By:
On DVD:
Runtime:
Studio:
Sony Pictures Home Entertainment
Critic Reviews for Impact (MINI-SERIES)
There are no critic reviews yet for Impact (MINI-SERIES). Keep checking Rotten Tomatoes for updates!
Audience Reviews for Impact (MINI-SERIES)
½
Everything you'd expect from a global disaster made for TV movie: shonky effects, hammy acting, nonsense science and twice as long as the material supports... and yet its actually rather a good watch. Henstridge carries much of the credit for making her character fun to view and when shes not on screen the side stories do drag a little. Some off the moon effects are pretty decent, and they don't scrimp on those, but the other scenes of boats and trains are distractingly plastic. Over all it feels like a modern version of a 50's sci-fi flick and with fast-forward over ads and side scenes it makes a decent hour and a halves viewing.
Mark Nash
'Impact' was a 2008 ABC television mini-series that I bought on a lark. Ready for the rant? Here comes… Talk about a suspension of disbelief! This made for TV movie was worse than 'Santa Claus Conquers the Martians'! My IQ dropped so low I could speak to my plants as an equal in just the three and a half hours I sat in a semi-vegetative state watching it! A 'heavy asteroid', described as a remnant of a Brown Dwarf, which was then incorrectly described as a remnant of a supernova, strikes the Moon causing a large crack along it's northeastern hemisphere. But! Because this "brown dwarf" remnant (I think they meant a neutron star, but I doubt anyone bothered to consult the science advisor. If they even had one) is made up of superdense matter, it's gravitational pull begins to draw it on a collision course with the earth. The marginal special effects stopped being so special after not even a nod to reality was given. The sight of cars being lifted into the air by the gravitational force of the now much more massive moon while the surrounding objects sat motionless took my breath away with it's total lack of respect for the audience. Wooden acting, absolutely unbelievable subplots, and an absurd sense of seriousness made this an intensely painful television experience. One must wonder if Phil Plait has seen this film, and if so, why hasn't he reviewed it? I suspect either because he's still in a coma, or he's unable to stop laughing long enough to type. Compared to this flick, Plan 9 From Outer Space should have swept the 1959 Oscars! Good GAWD, this film was awful!
Yadunno Duya
Impact (MINI-SERIES) Quotes
There are no approved quotes yet for this movie.